Kaw Valley Farm Tour, coming in October, turns farms into museums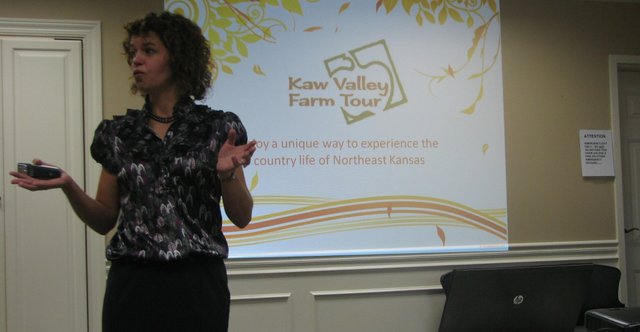 When Shannan Seely first heard about the concept of the Kaw Valley Farm Tour, she didn't quite understand.
Seely had grown up on a farm near Tonganoxie, and the idea just sounded strange to her.
"Growing up on a farm like I had," Seely said, "when they first told me this, I was like, 'Seriously, people bought a ticket to go on a farm?'"
In fact, they did. Nearly 800 people last year bought tickets to visit farms as part of the Kaw Valley Farm Tour, for which Seely is now the coordinator. At Thursday's Basehor Chamber of Commerce meeting, Seely gave a preview of this year's farm tour, a self-guided weekend trip to a variety of northeast Kansas farms that feature alpacas, bees, pumpkins, wine and much more. The 2011 edition takes place from 10 a.m. to 6 p.m. Oct. 1-2.
The tour provides an opportunity for a fun weekend, serves as an educational experience, helps out local farmers and encourages people to get in the habit of buying local food and goods, Seely said. It is sponsored by the Kaw Valley Agri-Tourism Council.
Visitors often are amazed at the variety of farms that exist in the area, Seely said.
"Usually, it does amaze people what they see on the tour," she said.
The things visitors see range from the alpacas raised for their fleece at Ad Astra Alpacas south of Baldwin City, the heirloom vegetables at Crum's Heirlooms in Bonner Springs and the vineyard at Kansas' oldest winery, Basehor's own Holy-Field Vineyard and Winery.
For the weekend, the farms turn into interactive mini-museums, Seely said, where visitors can learn about what kinds of products are produced at local farms, how farms work and what makes produce "organic."
"We really want it to be hear, see, touch," Seely said, "farm smells, actually touching animals, touching crops, touching the food."
Another major purpose is to give farmers an opportunity to sell produce and other goods, she said.
"I remember having a farm interested in being on the farm tour calling me up and saying, 'So, can you sell things on that weekend?'" Seely said. "Yes. Yes, you can. That's what it's all about."
Participation in the tour has more than doubled in the last five years, Seely said. In 2006, when 14 farms participated, the event sold 343 tickets, and just more than 1,000 people visited the farms. In 2010, when 21 farms took part, ticket sales increased to about 790, and attendance was about 2,400.
In 2011, a record 24 farms will participate. Many are near Lawrence, but a few participating farms are also near Topeka, Olathe and elsewhere.
Only a few ambitious visitors each year actually tour each farm over the two-day stretch, Seely said.
"Now that we've grown to 24 farms, it's almost impossible," she said.
Visiting four or five farms per day might be a more reasonable goal, she said, perhaps fewer for families with young children.
So which farms should visitors be sure to stop by? The answer to that is different for different folks, Seely said. For instance, families with children might want to spend some time at Screamin' Oaks Farm in Tonganoxie, a frequent school field trip destination that offers a slide, balloons and face-painting. But groups of adults might be drawn to the three wineries on the tour.
"It really depends on what you're looking for," Seely said.
A complete list of tour stops and a schedule of special events is available at the tour's website, kawvalleyfarmtour.org. Tickets, which are $10 per car, will be available there in mid-September as well. Tickets also will be available at any of the participating farms during the tour.