'

Senior sense of urgency'
Painful end to 2010 taught Chieftains' players, coaches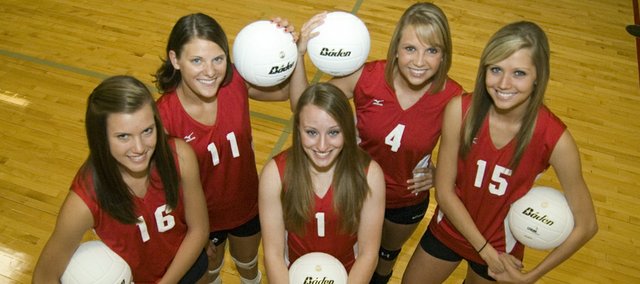 MORE TO THE STORY
Before Tonganoxie High's volleyball season begins at 7 p.m. Monday at Atchison, find out more about the team online at The Mirror's sports blog, Sports Supplement.
Only one team in Class 4A Kansas volleyball gets to end its season with a state title each year. Like the 62 other 4A programs not named St. James Academy, Tonganoxie High's season ended short of that in 2010.
Though equal parts disheartened and angered by a season-ending loss — in a sub-state semifinal at home against Piper — at the time, the Chieftains head into the 2011 season armed with the knowledge gained through that experience.
Said THS co-coach Brandon Parker: "I think everyone, coaches included, learned from it."
When the season ended last year one victory shy of a sub-state final match against SJA (now the three-time defending state champions), Parker said Tonganoxie's players didn't give enough and they had feared the big moment. As the Chieftains embark on a new year led by a group of five seniors — Megan Hummelgaard, Brooklyn Kerbaugh, Kailan Kuzmic, Sagan Scates and Haley Smith — Parker said the players have referenced the way 2010 ended for them and they don't want to go out like that again, because it wasn't the team's best effort.
"I see more of the mature approach in the kids right now," he said. "And it's not so much that we're going to focus on the past. We've learned from it, but it's time to move on. This is their team now."
With everyone a year older, Parker added, the team has a "senior sense of urgency" about it.
Kerbaugh said the Chieftains feel more prepared this year and have more drive because the seniors know this will be their last time playing together.
"You really don't know what it feels like 'til it's your senior year," she said. "It's your last couple months playing with these people."
Because five of Tonganoxie's rotation players are seniors, Kuzmic said, they know each other and understand what each of their teammates is capable of doing. After all, the senior class has been together since middle school.
"A majority of our team is seniors," Kuzmic said. "Everybody is gonna want it."
Things have seemed to click since the first day of preseason practice, Smith said. When they have worked on game situations, the players on the court have been comfortable working together.
"I see a lot more confidence," Smith said. "You know when there's someone behind you backing you up on a block or anything like that."
Although seniors comprise most of the varsity unit, Parker said even the team's juniors — Hannah Kemp, Madee Walker and Jenny Whitledge — are basically at or close to the same level, because Kemp and Whitledge have played two seasons already and Walker played last year.
"We feel that right now they have more of a senior mentality, because they've all been through it together," he said.
With eight returning players, co-coaches Brandon and Tiffany Parker expect to play nine in their rotation and the battle for that last spot is ongoing between Kara Banks, Olivia Hollingsworth, Marissa Martin, Caly Ingle-Maxwell, Stephanie Miller and Katelyn Waldeier.
With so much returning from last year's 30-11 team and healthy competition for playing time, one might wonder just how good this season will be for Tonganoxie. But Tiffany said the Chieftains aren't even talking in terms of number of wins.
"I don't think they want, necessarily, to put a number on it," she said. "Let's enjoy each other and be the best we can."
Brandon said that last year he thought they might have put too much emphasis on winning certain matches and Tiffany said the team would not have that approach this season.
"I don't think there's any sort of expectations that way," she said, before explaining the mindset the coaches want to see out of their players. "Let's compete in practice, let's get out here and have fun while we're doing it."
As Brandon pointed out, every team should want to compete for a league title and earn a trip to state, so the coaches aren't concerned with stating those obvious goals. Because the coaches have been around these players since they were in middle school, the Chieftains know what the coaches expect. And they go out and do it.
The returning players don't want to end their year with another upset loss. The team's focus, Brandon added, is to never have a bad practice and enjoy every second of playing for Tonganoxie.
"If they do that," he said, "we don't put ourselves in those situations anymore."
Tonganoxie's season begins at 7 p.m. Monday with a road match at Atchison.