THS

boys soccer seeks balance in confidence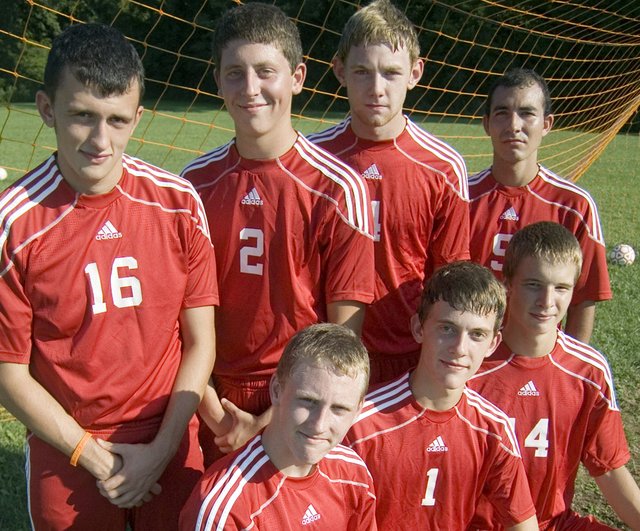 When members of Tonganoxie High's boys soccer team look back at their 2010 season, it seems like quite the success.
The Chieftains won two road playoff matches and were so close to a regional title that it took sudden death penalty kicks to finally end their postseason run.
In reality, THS went 3-16 a year ago, winning only once in the 16-match regular season.
"Everybody doesn't look back on the season," said Tonganoxie coach Brian Kroll. "They look back on the postseason."
There is both good and bad in that glass-half-full remembrance. On the positive side, the playoff victories gave the team's 10 key returning players a big confidence boost heading into the 2011 season. They know they aren't as bad as their 1-15 regular season record indicated.
On the other hand, Kroll pointed out, the Chieftains can't let that newfound confidence go to their heads. The second-year coach said the THS program has long had a bad habit of becoming complacent. Kroll got the sense the first few days of practice that the players were taking last year's playoff success for granted and they didn't come in with the same focus they displayed last year that made their postseason run possible.
There are teams that THS should be looking out for this year, the coach said, but he was unsure the players were buying in to that. Kroll said too many players are falling into the trap of looking at last year's happy ending and expecting it to automatically carry over to the 2011 season.
"That doesn't mean anything," he said.
All the Chieftains know for certain about this season is that they have some key pieces coming back and a couple of additions that should help offset some losses.
Tonganoxie expects to be strong up the middle of the pitch with three established senior captains — midfielder Tyler Bartholomew, midfielder Matt Briggs and defender Marcus Titterington — playing in the center of the field. Junior Zack Tallent will spend a lot of time in the center, too, while moving around, Kroll said, and junior Keaton Truesdell will be the team's last line of defense at goalkeeper.
Elsewhere, Kroll said he plans to mix things up and have other players move around and have varying responsibilities. He said Conner Kietzmann, Cody Martin and Joseph Parrino would take on a few different roles, Evan Stilgenbauer could play on either side at midfield, Matt Saathoff could be a midfielder or forward and Colton Young is a utility player that can be plugged in anywhere.
There are two new players on the THS roster who should compete for playing time, too, Kroll said. The coach said Shane Starcher would be a good defensive pick up for the team and could play in the midfield on the attack as well, because he has a good foot. At forward, the Chieftains have added a competitive attacker in John Lean.
"Those two guys have really come in and made a very quick name for themselves," Kroll said.
The coach and his players definitely feel good about Tonganoxie's ability to improve upon its three-win season a year ago. However, Kroll didn't want to talk openly about how many victories he had in mind.
Bartholomew said the success of this season, same as last year, will come down to the playoffs, but he wants to at least go .500, something THS has yet to accomplish in his time with the program.
"We definitely want a better season," the senior said. "A regional championship wouldn't be bad either."
Briggs said with most of Tonganoxie's core players returning — only Jake Willis, who graduated, and Evan Lott, who transferred, are absent among last season's key players — wins should come more easily this year.
"I think we will play at a higher level," he said.
Like Bartholomew, Briggs said he would like to get above the .500 mark but he doesn't know exactly how good the Chieftains will be as of yet. The senior said there will be ups and downs but the team is confident the good will outweigh the bad.
"We look at every game and if we're healthy and on our game, we really should have a chance," Briggs said.
Tonganoxie's primary goal, Kroll said, is to be better than last year. But he made it clear the Chieftains want to be a lot better.
"If we only win two games in the (regular) season," the coach said, "from a competitive aspect, we would've failed miserably."
Tonganoxie's season begins at 4 p.m. Friday, when the Chieftains play host to Baldwin.