Giving voice to the silent city on the hill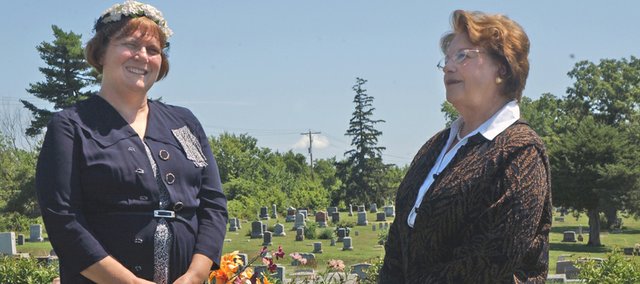 Reading from a script Sunday at a workshop in the Kelly law offices in downtown Tonganoxie, 9-year-old Chase Elkins spoke as Dickey Pierson, recounting details of his ninth birthday party.
"I remember one of the last times I saw Perry (Dickey's best friend) was when we had a birthday party because we knew I was really sick," he said. "Though my friends thought I only had the mumps, in truth I had leukemia. Golly, it was the best party ever."
Dickey died shortly after that party and was buried in Hubbel Hill Cemetery, where tombstones inform visitors of his and others resting there of the dates of their births and deaths and perhaps a hint of their faith.
But the former Tonganoxie residents have stories of triumphs, contributions and sorrows beyond the hard facts carved in stone on Hubbel Hill. During the past few months, Tonganoxie Community Historical Society members have been researching their lives to flesh out those stories.
At the weekend workshop, they shared what they have learned with fellow historical society members, presenters with the First City Performers and Story Tellers and volunteers who have agreed to portray 12 deceased former residents during three performances Sept. 16 and 17 at Hubbel Hill.
Keyta Kelly said the Cemetery Stroll would be a fundraiser for the historical society and P.A.S.T. The stroll, which won't really be a stroll but presentations in a central temporary straw bale theater, has been considered for several years, she said
We borrowed the idea," she said. "Last year, a group of us went down to Gardner when they had a cemetery stroll. A couple of the ladies have seen others done elsewhere.
"I don't think it's ever been done in Tonganoxie."
The presenters include veteran P.A.S.T. members like Kelly, Kathy Peak, Laura Elkins and Bob Spear and first-time performers. Among the deceased residents to be portrayed will be William Heynen, longtime editor and publisher of The Mirror, Tonganoxie mayor for 25 years and banker; Dorothy Quisenberry, wife of Hervey Quisenberry and mother of Calvin and chosen because of the funeral home family's ties to Hubbel Hill in addition to her community involvement; Ruby Laming, who served on the committee that got the library started and whose husband, Foster, opened the local telephone company; and Ida Keck Toburen, wife and daughter-in-law of the town's bakers. Some volunteers were assigned their roles Saturday while others chose their characters. John Evans II chose to portray his great-great grandfather Lemuel Evans, a Civil War veteran who founded the family realty business, and Janice Seymour took on Frances Young Myers, daughter-in-law of Mollie Myers of the Myers Hotel, which Frances helped operate with her husband, Jake, until 1934.
It was a bit intimidating to portray a woman of Tonganoxie's more recent past and someone who taught her husband, Mike, and many of her friends, Seymour said.
"I was a little bit scared about not doing her right," she said. "I've heard so many stories about her. She taught school for many years and also taught piano lessons, so there are many people out there who knew and loved Frances."
Seymour will talk to Myers' daughter-in-law and has talked with her grandson to gather stories for her presentation. Feedback from the grandson might put her at ease about delivering a realistic performance.
"Her grandson told me yesterday, 'She was a little bitty thing, just like you,'" she said.
Kelly — who will portray Mary Brown, who like her husband, Charles Brown, performed on the Vaudeville circuit before raising sons, and future magicians and ventriloquists, Foy and Joy in Tonganoxie — said the volunteers' research into their characters may solve one or two mysteries.
One mystery is why silent movie Hollywood actor Jack Hoey is buried just outside the family's Hubbel Hill plot. Kelly said it was known Helen Hoey, who will be portrayed by Jerry Bayse, didn't like her brother-in-law but the root of the animus wasn't.
"Maybe she can find out the reason for that," Kelly said.
The three cemetery stroll performances will be 6:30 p.m. Friday Sept, 16 and at 4 and 6 p.m. Sept. 17 at the cemetery, a half-mile west of Tonganoxie on Kansas Highway 16. Tickets are $5 at the event for all ages. There will be tents at the event in case of rain, Kelly said.