Braves' 5 2nd-half goals beat Chieftains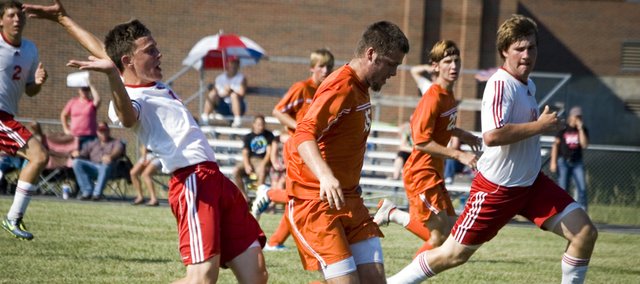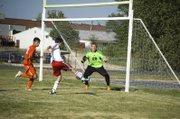 A match that had the first-half makings of a tight Kaw Valley League contest turned into a mini-blowout going away Tuesday when Bonner Springs High scored all five of its goals in the second half of a shutout victory at Tonganoxie.
The match was scoreless at halftime but it didn't remain that way for long in the second half, when the Braves took control early and rolled to a 5-0 victory in their season opener.
In the third minute of the second half, Bonner Springs' Ryan Cook broke the stalemate with a shot from the right side past Chieftains goalkeeper Keaton Truesdell.
Before long, the rout was on. Shortly after BSHS took a 1-0 lead, Colin Barker had a one-on-one opportunity in front of Truesdell and fired it successfully into the left side of the net.
What followed was a roughly 15-minute long stretch in which THS (0-1-1) couldn't stop Bonner's Shawn Jones, who scored three goals for a hat trick. Jones' most spectacular shot came in the 52nd minute, when he stopped at the top of the box and rocketed a score just over the outstretched hands of Truesdell.
The Braves (1-0) secured a shutout thanks in large part to their goalkeeper, Brett Steuart. The BSHS keeper denied shots by Tonganoxie's Matt Saathoff, John Lean, Matt Briggs, Marcus Titterington and Joseph Parrino and finished with 11 saves.
Truesdell stood out in the first half with nine saves of his own. He turned away shot after shot in the first 40 minutes, which included a diving denial of a Spencer Bush penalty kick in the 30th minute.
At 6:30 p.m. Thursday, BSHS plays host to Lawrence-Free State.
Tonganoxie will play host to its third straight home match at 4 p.m. Thursday, when Basehor-Linwood comes to visit.