Chieftains put last year behind them
After disappointing 1-victory campaign in 2010, Tonganoxie eager to move on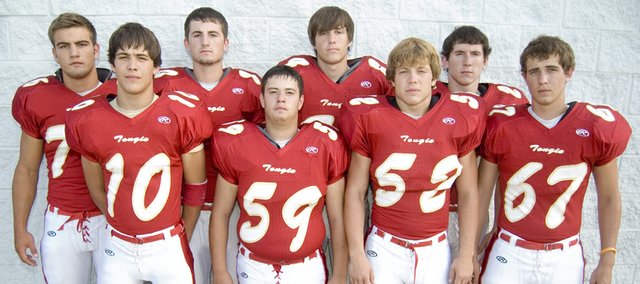 MORE FOOTBALL NOTES
Before the 2011 season kicks off for Tonganoxie High Friday at Bishop Ward, in Kansas City, Kan., read more about the Chieftains at The Mirror's sports blog, Sports Supplement.
Ask a Tonganoxie High football player or coach about last season and they aren't too interested in talking about it.
It's hard to blame them. After the Chieftains won their 2010 opener by 48 points, they lost eight weeks in a row to close the season, getting beat by an average margin of 19.4 points.
As they prepare to start their 2011 campaign, THS coach Mark Elston said he wants the players to try to forget that dreadful span, while at the same time using it as a motivator.
Senior safety and running back Derek Lingo seems to have found that perfect balance.
"We try to put it behind us, but that's definitely a starting point for us," Lingo said of the skid. "Every game we have is a revenge game. Everybody's saying we're the underdog. Everybody's saying we can't play. So we're kind of feeding off of last year, but we're putting it behind us and starting new at the same time."
Dallas Jacobs, a senior receiver and defensive end, said the team has to learn from its eight-game losing streak.
"We're not so much trying to put it behind us as thrive off it and learn from what happened last year," Jacobs said.
Obviously, senior linebacker Ryan Lynch said, the Chieftains want to be better this year. They hope to keep improving throughout the season and do well enough in the final three weeks during district play to get an invite to the postseason.
"We definitely don't want a 1-8 season," Lynch said.
They don't want to talk about last season anymore, either, senior center and linebacker Jonas Myers said.
"It's a new year. It's a new attitude," he said. "It's fresh this year."
Elston is thinking about fresh in another sense this season — as in keeping the players on the field from tiring too much.
THS has a rotation of seven offensive linemen, six running backs and four receivers. Heck, Elston even says he plans to use three different quarterbacks, too.
"We've got to keep guys fresh," the coach said, "so a starter, he's gonna be out there the first series, but after that there's gonna be packages of people going in."
When Elston looked back at last year during the off-season, he couldn't help but notice there were five different games in which a bad three-minute or so stretch swung momentum in the favor of Tonganoxie's opponent — "It got really ugly fast," he noted.
Between trying to remedy those game-changing stretches and the fact that the THS roster only has 15 upperclassmen on it, Elston thought more frequent substitutions would be the way to go.
That holds true all over the field, even under center. Elston said Tonganoxie has the option of using three different quarterbacks, each of whom has different strengths. The coach said junior Garret Elston can read defenses and get the offense into a play a little bit quicker, sophomore Joe Wolf is more athletic and can make plays with his legs and sophomore Tyler Ford has potential to make things happen with his athleticism, too.
At running back, the coach said Lingo and sophomores Cole Holloway and Shane Levy can play all three spots and junior Julius Coats has really been coming on at practices. Plus, Elston added, THS has a few other players who can step in at running back and help out for three or four plays. Generally, whoever isn't playing quarterback at the time figures to be in that mix.
Tonganoxie's receiving targets include Jacobs, senior Amos White and sophomore Eric Tate, among others.
Doing the work at the line of scrimmage to make the offense successful, Elston said seven offensive linemen will see plenty of playing time. That group is led by junior Ty Barton, senior Tyler Gonser, Myers at center and senior Chance Hopkins, a returning starter.
The rotation plan will be no different on the defensive side of the ball. Leading inside at tackle on the defensive line will be sophomores Zeke Kissinger and Clayton Neas. Outside on the end, the Chieftains have Coats, Levy and Jacobs.
At linebacker, Elston said he still wasn't sure who would be starting but those who have played best at practice are Myers, Lynch, senior Adam Thomas, sophomore Jordan Boudreaux and junior Thomas Miller.
"All of those guys have been doing really well," the coach said, noting who plays when will depend on opponent, down and distance and whether THS wants to go with size or speed.
In the secondary, Wolf and Lingo will start at safety and Elston and Ford will back them up. At cornerback, Tonganoxie will use Holloway, junior Tyler Zinser, sophomore Noe Puebla, Tate and sophomore Ben Johnson.
On special teams, White returns as the Chieftains' kicker but Elston said the coaches were still trying to decide among three options at punter and the most consistent of those has been freshman Carl Hecht.
There is no doubt about it, Tonganoxie will be young this season. As Elston put it: THS will be playing a lot of sophomores and everybody knows it. He hopes that will lead to less worries for the young players on the field.
"Those guys can just go out there and have fun and let loose and not worry about if you make a mistake," the coach said.
With so many youngsters in the mix, it will be highly difficult for the Chieftains to contend for a state championship, which is every team's goal. Basically, Elston said, the players have to get better each day at practice, every time they watch film and try to win the down each time the ball is snapped.
If that is the case, perhaps Tonganoxie can avoid another eight-game losing streak.
"We are not happy with 1-8, but a lot of guys got a lot of experience on the field (last year) and know what to expect on Friday nights," Elston said, "and all we can ask is for them to give us their best effort and let the chips fall where they may."
The 2011 season begins for THS at 7 p.m. Friday, when the Chieftains play at Bishop Ward, in Kansas City, Kan.