Former horse stables become site of Fort Leavenworth officer school after $12.2 million renovation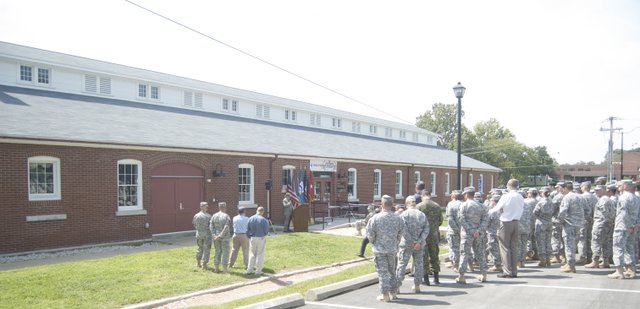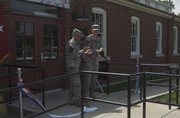 Fort Leavenworth — Fort Leavenworth on Monday unveiled the new home of its top-level Army planning school after $12.2 million worth of renovations to a building originally built to house horse stables.
Officials and students at the School of Advanced Military Studies attended a ribbon-cutting ceremony Monday at the school's new home, Muir Hall.
The renovations included $3 million worth of information systems equipment alone. Col. Thomas Graves, the director of the SAMS, said after the ceremony Monday that the technology upgrades — computers, communication networks and more — would be crucial in training its officer students to collaborate digitally in military planning, a practice that's become commonplace.
"We've always said that we're training leaders here at SAMS," Graves said, "and these are the tools they're going to have to use to lead for the next 20 years of their career."
The extensive renovations have left Muir Hall looking like a completely new building inside, Graves said.
"You would walk in this room and never believe that it had once been a horse stable," Graves said.
At the ceremony Monday, SAMS exercise director Eric Price gave an outline of Muir Hall's "interesting" history. It was built around the turn of the 20th Century as a horse stable, he said, and it continued to serve that purpose for several decades. During the 1930s, it served as the stable for the "Buffalo Soldiers" of the 1st Squadron of the 10th Cavalry.
Brig. Gen. Sean MacFarland, deputy commanding general for the Army Combined Arms Center at Fort Leavenworth, said that the presence of the SAMS contributed greatly to Fort Leavenworth's reputation as being home to some of the Army's greatest thinkers.
"I've made the comment before that if CAC is truly the intellectual center of the Army, then SAMS is the intellectual center of CAC," MacFarland said. "The folks that come through here are among our best and brightest."
MacFarland graduated from the SAMS himself, in 1994, when the school was housed in nearby Flint Hall. The school will move part of its operations back into Flint Hall later this year, after renovations there — also costing $12.2 million — are complete.
Graves is also a SAMS graduate, completing the program in 2000. The advanced, graduate-level studies at SAMS are a step higher in officers' education sequence from the intermediate-level education offered at Fort Leavenworth's Command and General Staff School, attended by Army majors.
Graduates of the program go on to work as planners for a variety of Army units, helping craft military strategy. Several graduates have gone on to be high-ranking generals, and almost every military strategy developed since operation Desert Storm has had the fingerprints of SAMS graduates on it, Graves said.
"I think SAMS continues to leave a pretty indelible mark on the Army," Graves said.