THS

cross country runners aiming for state redemption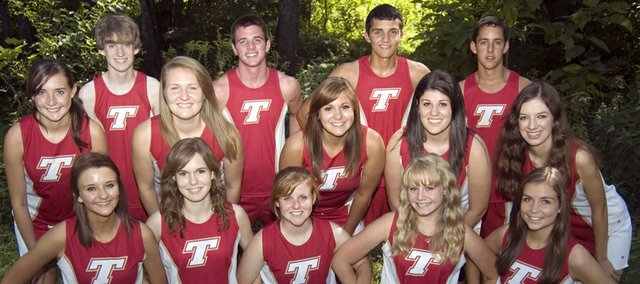 All the exact details might not be vivid in their memories, but Tonganoxie High's boys cross county runners know one thing for sure: They want to get back to state this year and prove they are better than they showed in 2010.
Chieftains senior Dalton Harrington recalled that the runners from THS were a little too cocky before making their first trip to Wamego Country Club for the state meet last fall. He said he and fellow senior Patrick Rachford have often talked about returning to state this year and turning out a performance that would make them proud.
"Last year we thought we were hot (stuff) and we ended up in like 50th and 60th place," Harrington said. "This year, we'll definitely know what state's all about."
Actually, Rachford was 70th, Harrington was 71st and then-junior Caleb Himpel was the top Tonganoxie runner at state, finishing 58th. By the time the race concluded, the Chieftains found themselves in 12th place — dead last — in the team standings.
THS coach Phil Williams, who has seen his fair share of runners competing at state, said Wamego is always toughest the first time around. The coach said he thinks the Chieftains could get back to state this fall and do much better.
"I would hope that they could finish in the top five or seven at state," Williams said of the squad's goals and expectations. "We just didn't run very well last year."
Ideally, THS would like to qualify its entire team for state once again. According to Harrington, the jury is still out on how easy that will be to accomplish.
"It might be tougher (this year), just because we don't know how fast these freshmen runners are and stuff," Harrington said. "We could go as a team, but I don't know yet."
The good news for Tonganoxie is that its top three seniors — Rachford, Harrington and Himpel — all have state experience now, as do Clayton Himpel, Brady Field and Jeff Neal. Plus, Harrington said other up-and-coming runners are Mitch Brock, Asher Huseman, Andrew Behm and Bret Morey. Garrett French, Williams added, is looking very strong for a freshman and has been hanging with the team's top runners at practices.
THS won't have its full compliment of runners available when the season begins, however. Caleb Himpel tore some ligaments in his left elbow about a month ago in a tubing mishap. He just started practicing Aug. 24 and hopes to ease into things and get in shape in a couple of weeks.
THS girls have depth
Tonganoxie's girls cross country team didn't qualify for state a year ago, but Williams thinks this year the team's depth should lead to a better season.
Most of the Chieftains' top runners, the coach said, are freshmen and sophomores. The sophomore class includes Emma Stilgenbauer, Hunter Cook, Taylar Morgan and Alissa Donnelly, who could be the top runner for THS after missing last year with a knee injury.
Williams said there are about 10 total runners capable of making varsity and other candidates include Sarah Ahart, Tressa Walker, Emily Williams, Mackenzie Rachford and Amanda Shepley. The coach said there has been a lot of competition between the No. 5 and No. 10 spots.
"I've been real impressed with that, because we have more depth," Williams said.
With 32 girls on Tonganoxie's roster, practice runs have had a real sense of competition. Even seniors such as Lindsey Truesdell, Lauren Hughes and Taylor Clark know their seniority won't guarantee them varsity spots.
Said Truesdell: "There's a lot of incoming freshmen that have a lot of talent, so certain people try a little bit harder to maintain their spots."
With that competition, though, THS should become a better team.
"There's a ton of us," Truesdell said. "There's a lot of depth."
Though there is competition between the older and younger girls, Williams said seniors Clark, Hughes and Truesdell, who may not end up running varsity, have shown leadership.
With a little healthy competition, the coach thinks Tonganoxie could finish in the top two or three in the Kaw Valley League and possibly make a run at a state berth.
Tonganoxie's season begins at 5 p.m. Thursday with a home dual against Lansing.