Chieftain boys look to be more balanced in 2011-12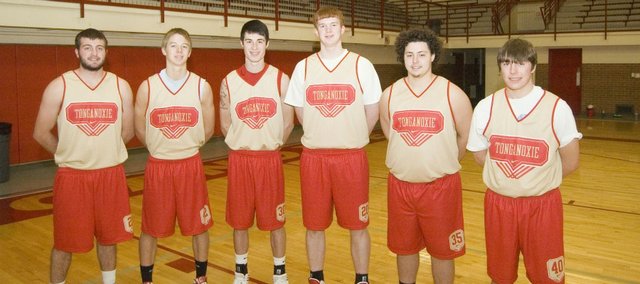 The Tonganoxie High boys basketball team must find a way to replace a sizable chunk of its scoring thanks to graduation.
But that might not be all bad, as the Chieftains contend this year's version has many players who can contribute.
Oh, and THS still has a big weapon in senior post player Dane Erickson, who has been an all-Kaw Valley League selection the past two seasons. In last year's season finale, a Class 4A sub-state semifinal loss to Sumner Academy, Erickson scored 33 points against the Sabres.
Lost to graduation are Jeremy Carlisle, Austin Vickers and Dylan Scates, who accounted for much of Tonganoxie's scoring in 2010-11. But this year's seniors, such as Colby Yates, say there are many players who can step into such roles.
"We've got a lot of height to us," Yates said.
And after a week of practice, he said Friday the Chieftains are moving forward.
"It's going well," Yates said. "There are a lot of people competing for spots."
Joining Yates and Erickson in their final seasons with the Chieftains are Ben Williams, Dylan Jacobs, Brennen Williams and Brady Waldeier.
Yates and some fellow seniors talked about the Chieftains being a more balanced team this year, but coach Shawn Phillips stressed that it all starts with getting the ball to the post and having a solid inside game. That being said, Phillips sees the Chieftains having various weapons.
"We have many who can contribute on any given night," he said.
Tonganoxie, which finished 10-12 last season, has some up-and-coming players who should help this year's campaign, as well.
Phillips said juniors John Lean and Keaton Truesdell, as well as sophomore Tyler Ford, have been coming along in the preseason.
Yates said he liked what he was seeing from teammates as well, including Evan Stilgenbauer, while Erickson was praising Yates and Ford.
Erickson said though practice has been sloppy at times in the first week — an expected occurrence in the preseason — overall, practice was going pretty well.
"I think it's going to be a great season," Erickson said.
Tonganoxie has nearly two more weeks of practice before the regular season starts. The Chieftains will play host Friday, Dec. 2, to rival Basehor-Linwood to begin the season.