Former resident leaves community Google present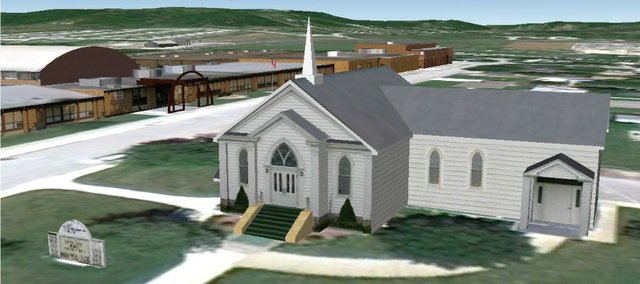 The depth of Cody Edwards' feelings for Tonganoxie is clear in the departing gift he left the community.
Edwards, a tech support employee for the Edwardsville yearbook publishing company Herff Jones, lived in Tonganoxie for about seven years with his wife, Paige, and son, Ty, who was a freshman earlier this year at Tonganoxie High School.
"We thought Tonganoxie was the perfect place to live," he said. "We loved living in Tonganoxie.
"It was a small town. It kind of had a little bit of everything. It was just a beautiful city."
But the Wyoming-born Edwards, who also lived in Utah before his job relocated him to the Midwest, also loved living in the mountains and the outdoor activities such environments afforded.
"Now, I'm privileged enough to work from home, and now I do it from the mountains of Colorado," said Edwards, who now lives just outside Durango, Colo.
Before he left, Edwards satisfied a creative itch with a three-dimensional re-creation of Tonganoxie for Google Maps and Google Earth.
To complete the summer-long project, Edwards first took photographs of different Tonganoxie structures and then recreated them with Google's SketchUp program.
"I love maps, and I love Tonganoxie," Edwards said. "It was kind of win-win. I wanted to see what a 3-D representation of Tonganoxie would look like.
"Tonganoxie is kind of a flat spot on the map. It's kind of neat now to see water towers, grain bins and so forth."
The most complicated building to recreate was the high school, Edwards said.
"Anytime you have a building with a building attached to it, it's harder because you have to recreate the different buildings and mesh them together," he said. "Like the dance studio downtown. It has a little shed attached to it. I had to recreate both buildings and put them together."
That required a lot of photography, and occasionally he would be asked why he was so interested in a building, Edwards said.
"Once you explained, they were pretty cool with it," he said. "There were a couple of people who asked that I not put their buildings on there. I respected that."
There are a number of businesses that get free advertisement from the project because their business names and numbers are displayed, Edwards said.
Edwards said he has had positive feedback. It came not from residents of Tonganoxie, but from others in the SketchUp community.
He is one of those, Edwards said, and he still gets a kick out of his work.
"I still love to go there and look at it," he said. "One of my favorites is the high school. Whether people like it or not, the light poles there are one of the defining elements of the Tonganoxie skyline.
"I do like to go back and look at it. It does remind me of our time in Tonganoxie."