Jeweler has offered to mount 100-year-old diamond found in Salvation Army kettle
Unusual donation turned up at Shawnee Walmart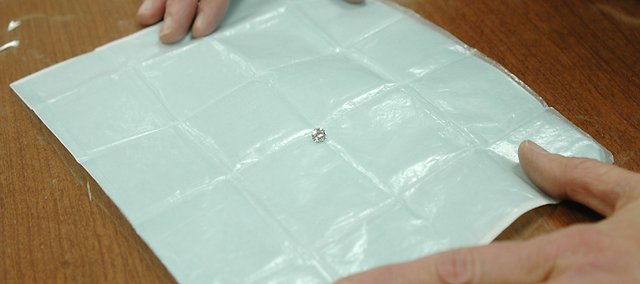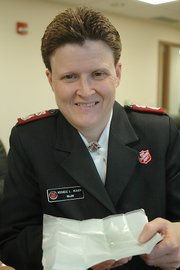 A Salvation Army kettle from Shawnee turned up a sparkly surprise when workers opened it to count the day's donations — a diamond.
A jeweler appraised the diamond Thursday, revealing its retail value is $2,000, said Michele Heaver, the Salvation Army Corps Officer for Kansas City, Kan.
"That could help fill our pantry, help many families who come in for food assistance," Heaver said. "It could help with four or five utility bills, or help a couple people pay their rent."
Someone dropped the stone in the red kettle Nov. 30 outside the Walmart at Shawnee Mission Parkway and Maurer Road, Heaver said. When they opened the kettle to count its contents, Salvation Army volunteers discovered a piece of diamond paper with the loose stone inside.
Meierotto Midwest Jewelers, a large diamond seller at 4311 NE Vivion Road in Kansas City, Mo., appraised the stone pro-bono, Heaver said. The diamond — a .83-carat round cut — is thought to be about 100 years old.
Heaver said the Salvation Army probably would sell the diamond but that charity leaders had yet to determine how.
Meierotto's owner Carol Meierotto said she had offered to mount the diamond in a ring and help auction it.
While its past is a mystery, the old diamond likely had a "beautiful history" even before it was dropped in the kettle, Meierotto said. And such a story could help it fetch a higher price for charity.
"You can think of all kinds of wonderful journeys that that diamond has taken," Meierotto said. "People don't give diamonds to someone they don't love…and the fact that someone gave it to the Salvation Army shows a great deal of love for those in need."
Meierotto said she gets many requests for donations but that the Salvation Army was a charity she had vetted and supported. She added that she once asked an off-duty police officer working at her store what authorities do when they find a family on the street.
"He said, 'We can always call the Salvation Army,'" Meierotto said. "And that just made a big impression on me."
The Salvation Army's 2011 Red Kettle Campaign kicked off Nov. 11 and runs through Christmas Eve.
Last weekend, after news of the diamond went public, the Salvation Army discovered two gold bars in its kettles, according to an announcement from the charity. One, worth up to $800, was in Kansas City, Mo. The other, worth up to $400, was in Kansas City, Kan.
Heaver said the volunteer at the Shawnee Walmart kettle didn't report anything out of the ordinary and probably didn't even notice the unusual drop.
Heaver said the Salvation Army has discovered rings in their kettles — they can slip off cold fingers and typically are reclaimed — but that in her 23 years with the organization she's never heard of a loose diamond.
"I would assume it's a purposeful donation," she said. "It's absolutely wonderful that somebody would give this type of donation. We're very appreciative, and it will help a lot of families."