Woman killed in two-vehicle accident on Leavenworth County Road 1; other driver taken by air ambulance to
KU

Hospital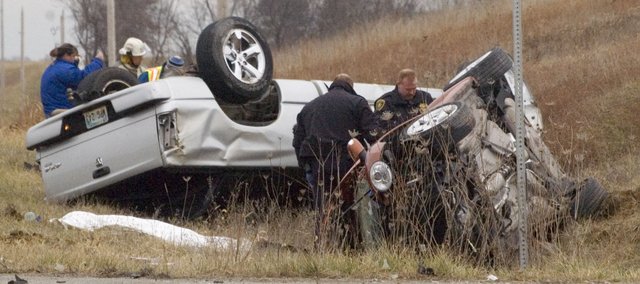 A two-vehicle accident on Leavenworth County Road 1 left one person dead and another taken to an area hospital by air ambulance Monday afternoon.
The accident occurred about 3:30 p.m. near County Road 1 and Hemphill Road just north of the Tonganoxie/Eudora interchange on Interstate-70.
The person who died at the scene was thought to be a Lawrence woman, according to the Leavenworth County Sheriff's office, but law enforcement officials were continuing to work to confirm the individual's identity.
According to the sheriff's office, the woman was heading north on County Road 1 in a Volkswagen Beetle when she attempted to turn around at Hemphill Road and head back south on CR 1. A man driving a Dodge truck was headed south on the county road when his vehicle struck the passenger side of the Beetle. The vehicles came to rest southwest of the intersection.
The man was taken by air ambulance to Kansas University Hospital. The sheriff's office did not have further information about the man.
Kansas Highway Patrol, Leavenworth County Emergency Medical Services, as well as Reno Township Fire Department and Tonganoxie Township and city fire departments also responded.