Merry Christmas to all: Tonganoxians helping those in need
Good Shepherd fills families' Christmas gap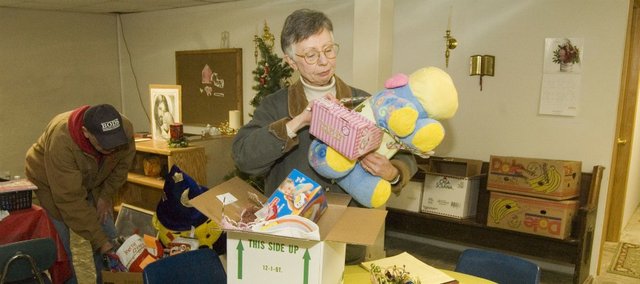 Local residents, through a partnership with Good Shepherd Thrift Shop and Food Bank, are doing their part to make the holiday season more jolly for about 60 local families.
Groups and individual families had the opportunity this season to adopt families that needed assistance for Christmas.
Toys for the families' children are distributed among the more than 60 families, as well as food for the families for their Christmas meals.
"Two years ago, we had to stipulate we would buy gifts for children only, but we also provide food for the family for their Christmas dinner," Janet Stuke said. "We've been doing that with meal cards to purchase because we don't have storage space. We let them do their own shopping. Christmas dinner for the whole family and gifts for the children."
Janet Stuke, a manager at Good Shepherd, and her husband, Jim, are in charge of getting the various donated gifts ready for families.
In addition to items families and organizations have donated, various other groups and individuals also have pitched in.
The Tonganoxie High School Family, Career and Community Leaders of America and Student Council donated several stockings full of extra items for children, while the Leavenworth County 4-H Leaders group baked and placed in cookie tins hundreds of cookies for families. In addition, like the 4-H leaders, John and Nancy Duncanson continued their annual tradition of donating fresh fruit to families.
Good Shepherd also provided Thanksgiving fixings for 44 families in the area. The organization provides assistance to all of Leavenworth County aside from Leavenworth and Lansing. Assistance, with the exception of food, reaches west into Jefferson County as well.
Shirley Sheaffer, another manager at Good Shepherd, said the group's capabilities to assist local residents has increased with a recent grant through the Leighty Trust. Good Shepherd purchased a heating and cooling unit for the food pantry and sorting room. The unit, which cost just less than $8,500, allows for longer shelf life for more food.
"And besides making it more comfortable for the people working with it," Sheaffer said with a laugh.
Around the holidays, the food bank receives an increase of turkeys and hams, but other foods, especially nonperishable, are welcome year around. Sheaffer said donating gift cards for food, such as a card at B&J Country Mart in Tonganoxie, was handy because food storage can be limited at the food bank and it allowed families to select those nonperishable items directly.
The thrift shop and food bank, which is run entirely by volunteers, is open 9 a.m. to noon everyday except Thursdays and Sundays.
People are welcome to donate items to be sold as well.
"We just would appreciate if they wouldn't leave items outside and bring them when we're open," Sheaffer said. "We don't accept big furniture items because we do not have room."
Sheaffer said she also was thankful for all the support throughout Leavenworth County and into Jefferson County.
Stuke noted that the assistance during the holiday was especially appreciated.
"It's wonderful," Stuke said. "It is because basically all of our families were adopted out and we didn't have to go out and do any canvassing for that.
"A couple people have asked just last week."
Stuke suggested anyone interested in adopting a family or assisting during the holidays contact with Good Shepherd toward the end of October.
Good Shepherd Thrift Shop and Food Bank is at 304 E. Fourth St.; (913) 845-3964.