THS

senior to continue golf career at

UMSL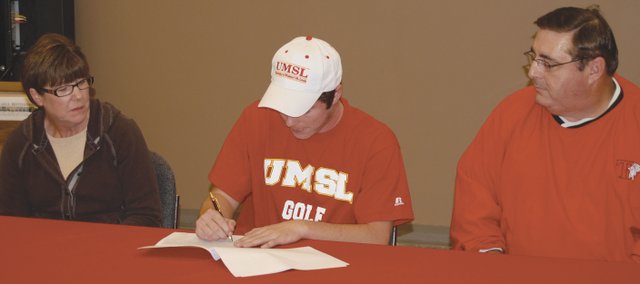 Tonganoxie — During his high school career, Tonganoxie senior Colby Yates has established himself as one of the top golfers in Chieftain history. Yates will graduate in May, but that doesn't mean his career on the links is finished.
He recently signed a national letter of intent with the University of Missouri-St. Louis, where he'll begin his collegiate career next fall.
"This summer, I sent out a bunch of stuff and they were one of the schools on my list," Yates said. "They had come to watch me a couple times. I finally took a visit right before school started and I knew it's where I wanted to be.
"It took a lot of pressure for me because that was the only thing on my mind."
Yates, who spends a lot of his free time at the Falcon Lakes Golf Club in Basehor, began golfing at age 10. However, he didn't do so competitively until eighth grade. What happened afterward speaks for itself.
The Chieftain senior owns the lowest single-round score in school history — a 69 shot at the Osawatomie Invitational in 2010 — as well as the three lowest season averages. He's been the school's Golfer of the Year each of the last three seasons.
The accolades haven't only been individual, though, as he's been a member of both four-man teams to shoot a school-low 312. The first record-breaker occurred at the Perry Country Club in 2010, and the second at the Atchison Country Club in 2011.
"It's been awesome," Yates said of his time in the high school program. "We've actually broken a lot of team records. Being part of a team atmosphere like that has been incredible. I give a lot of credit to coach (Jared) Jackson."
Yates may already know where he's headed after graduation, but he's not ready to look that far ahead. As he prepares for his final season as a Chieftain, he has his sight set on the 2012 state championship.
With all six members of last year's varsity squad back in 2011, he believes they'll have what it takes to hoist the trophy in May.
"We have everybody returning and a lot of kids with experience now. All it takes is one good day, and all six of our guys can bring it any day."
Tonganoxie will open its 2012 season at the Sunflower Classic on March 24.