Chieftains blow by Cyclones at
KCKCC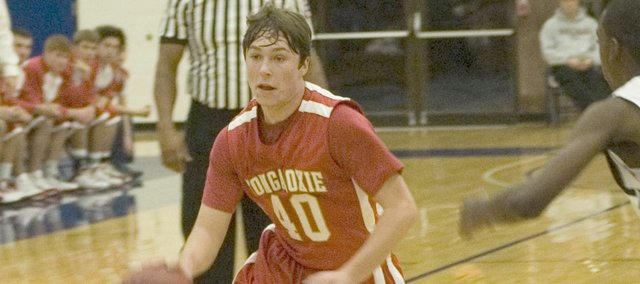 Kansas City, Kan. — For the better part of the last two seasons, Tonganoxie's Dane Erickson has been the Cheiftains' go-to guy.
Erickson was rarely there to go to against Bishop Ward on Tuesday, but many of his teammates were.
Junior John Lean led all scorers with 10 points, and Tonganoxie (1-1) defeated the Cyclones 49-37 at Kansas City Kansas Community College.
"With the first win of the season, you always kind of get that monkey off your back," THS coach Shawn Phillips said. "Now we're ready to roll and get some more."
Erickson, a 6-foot-6 senior, was limited to just six shot attempts. He finished with seven points, including a 3-of-4 mark from the free throw line.
Cyclone defenders zoned in on the Chieftains' primary post threat all night, but Eric McPherson provided an extra spark down low. The sophomore got several looks under the basket and capitalized with nine points.
"It took us a little while to get into the flow of things," Phillips said. "We got the ball inside to McPherson and he had a really good game for us.
"It's good to see that, when teams try to take Erickson away, other players are willing to step up and score."
Bishop Ward came out hot in the first quarter, sprinting out to a 7-0 lead, but the Chieftains gradually chipped away at the early deficit. They used a balanced shooting effort, as well as solid defense, to trim the defict to 11-10 at the end of the period.
A bucket by Lean knotted things at 12-12 early in the second, and Tonganoxie grabbed its first lead of the night on a 3-pointer by Tyler Ford just seconds later. The Chieftains ended the quarter on a 10-5 run and took a 22-17 lead into the locker room.
"Holding them to 17 points in the first half, that's pretty good," Phillips said. "We'll take that on any night."
That momentum carried over to the third quarter, in which Tonganoxie outscored Bishop Ward 13-5. The Chieftains took a 35-22 lead into the fourth quarter and led by double digits the rest of the way.
Bishop Ward senior C.J. Vallejo, whom Phillips labeled as a big scoring threat, managed just nine points on 4-of-13 shooting.
"I think that's unsung a little bit," Phillips said. "Even though Vallejo had some points for them, I thought, Ben Williams and Colby Yates did a great job on him, for the most part."
The Chieftains will return to action when they travel to Anderson County on Friday.