Chieftain wrestlers earn pair of wins
THS

caps off senior night with shutout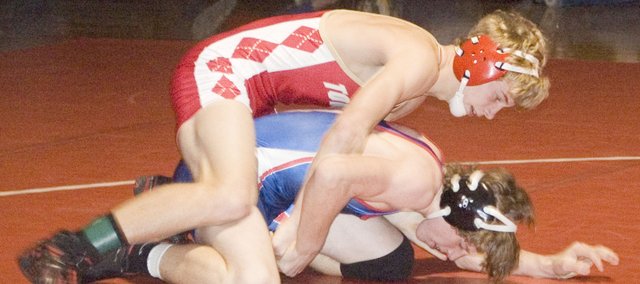 Tonganoxie — After spending the first two meets of the 2011-12 season on the road, the Tonganoxie wrestling team finally got a chance to compete in its own gym. The Chieftains played host to Santa Fe Trail and Ottawa for senior night on Thursday.
Odds are, the class of 2012 will remember this one for a long time.
In the third and final match of the night, Tonganoxie recorded 10 pins in a 78-0 shutout of Ottawa.
"It's one of those things where our team goes throughout the season with goals," coach Jeremy Goebel said. "The goals we set, we set for one reason: to reach them. It's just a total team effort."
Freshman Sinjan Gergick gave the Chieftains the start they were looking for against the Cyclones. Gergick pinned his opponent in the third period of his 106-pound match, and the rout was on.
Excitement built throughout the gym with each win, and the crowd erupted when junior Thomas Miller preserved the shutout with a first-round pin in the 195-pound division.
"As a spectator, you can see that they feed off each other as each match goes on," Goebel said. "Our 106-pounder gets things started and our heavyweights finish it."
Miller's win put the Chieftains up 66-0. Zeke Kissinger and Ty Barton were awarded victories by forfeit in the 220-pound and 285-pound classes, respectively.
Others to record pins against Ottawa included Caleb Himpel, Adam Thomas, Matt Soetaert, Ryan Lynch, Julius Coats, Luke Carey, Clayton Himpel and Asher Huseman. Dalton Tavis grabbed a 6-1 win, while Joe Wolf claimed a 4-2 decision.
Tonganoxie opened things up in winning fashion with a 43-28 victory over Santa Fe Trail in the night's first meeting. Goebel's squad got off to a hot start, as four of the first six Chieftains to hit the mat came away victorious.
That proved to be crucial, as the Chargers narrowed the gap from 25-7 to 25-22 before Tonganoxie was able to pull away.
"That's huge to make sure we set the tone early on," Goebel said. "Especially in a dual setting, a lot of it is involved around momentum."
Clayton Himpel earned a win in the 120-pound division, pinning his opponent with 1:02 left in the second period. He was one of four Chieftains to end his match with a pin. He was joined by Wolf in the 132-pound class, Miller in the 195-pound class and Barton in the 285-pound class.
Huseman and Thomas also won their matches against the Chargers. Huseman won his 138-pound match by a score of 11-1 and Thomas won a 2-0 decision in the 145-pound class.
Tavis and Coats won by forfeit in the 113-pound and 182-pound classes, respectively.
The Chieftains won't be away from the mat long, as they'll return to their own gym for the Tonganoxie Invitational on Saturday. Action is set to begin at 9 a.m.
"Hopefully we can finish up before break on a good note and just keep competing," Goebel said.