Soldier father surprises 6-year-old daughter in Basehor-Linwood kindergarten class with return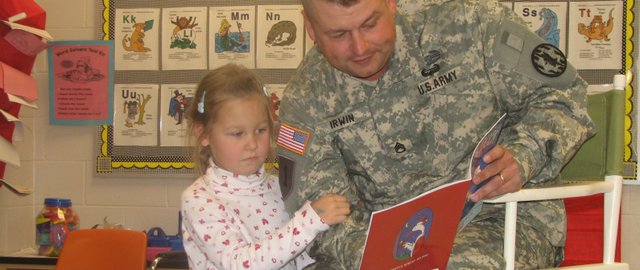 The kindergartners chattered loudly, shouting over each other to say words that start with "ch": "Chicken!" "Chocolate!"
But Viktoria Irwin stood next to them silent, her hands together and her face still, as her eyes focused on the doorway in the opposite corner of the classroom, where a figure dressed in Army fatigues was entering.
For a few seconds she stood like that, before she realized who it was. Then she yelled: "Papa!" A smile leapt to her face, and she ran toward the doorway, with her arms spread out the whole time as she prepared to hug her father.
This reunion Thursday afternoon was the first time 6-year-old Viktoria had seen her father, Timothy Irwin, in more than two months. In August, Irwin was sent with the rest of the 591st Military Police Company to Fort Bliss near El Paso, Texas, where he was to be stationed for three years. The only time he'd seen Viktoria since was a two-day visit in early October for her birthday.
"My dad's been away a long time, and I missed him," Viktoria said.
Irwin and his wife, Daniela, had bought a house near Bonner Springs in January under the impression he'd be stationed at Fort Leavenworth for a while — "at least for another year or two," Timothy said, laughing. Except for a tour in Iraq, he'd been there for about three years.
But a few months later he received his orders to report to Texas, and the family decided he would go on his own. The family couldn't abandon its newly purchased house, Daniela was earning a degree at Park University in Parkville, Mo., and the parents wanted to give Viktoria some stability.
"With Viktoria settling in here, don't want to drag her right out in the middle of something she's just getting used to," Timothy said.
So since Aug. 7, Timothy has had to substitute near-daily phone calls for face-to-face interaction with his wife and daughter.
After Viktoria ran to him upon his entrance on Thursday, Timothy lifted her and held her face to his own, kissed her and whispered for a while in her ear so only she could hear him. She kept smiling.
"I love you, Papa!" she said.
After he put her down, he gave her another hug and more whispers. She bounced back to her classmates, and he dabbed at his eyes with his hand.
Viktoria's smile did not fade Thursday afternoon, but her father's absence has been hard, she said.
"Once, I cried because he was away," Viktoria said.
When Viktoria misses her father, it's tough to watch, her mother said.
"It's heartbreaking," Daniela said. "But I mean, all you can do is take her in your arms and tell her he's going to try to come home sometime soon again."
This is Timothy's second extended time away from Viktoria. He served in Iraq from 2009 to 2010, his third deployment after trips to Iraq and Kosovo before Viktoria was born. He has served in the Army for 17-plus years, during which he has also been based in Germany, where he met Daniela.
When he returns from time away, he likes to give his daughter some sort of surprise in order to jump-start the lifting of her spirits, he said. After he received an email from Viktoria's kindergarten teacher, Alison Budimlija, asking parents to come to class during December to read Christmas-themed books, he volunteered to be a "mystery reader." This time, the surprise would be that he came home.
"I've been looking forward to this and hoping nobody would let it slip," Timothy said. "It was hard even talking on the phone to her, and she'd ask when I was coming home."
So about five minutes before Timothy's arrival, Daniela came into Budimlija's classroom under the guise that she would be the mystery reader. Then the real surprise came.
After his reunion with Viktoria, Timothy answered a few questions from her classmates ("You shoot guns!" "Yeah, part-time.") and read aloud a book she'd chosen: "Santa Duck." For a few seconds, Viktoria sat by the other kindergartners, but then she got up and stood next to her "papa," both of her arms around one of his.
After he finished, Viktoria ran to grab another book and handed it to her father. But it was time for the class to leave for another activity, Budimlija said. Viktoria, though, could head home with her parents, she said.
Timothy will be home for two weeks, during which time Viktoria said she hoped they would go to Cabela's and to the movie theater to see "The Muppets" together. Then, he'll head back to Texas.
The situation may not be what the family expected when it settled here nearly a year ago, but they're making it work, the parents said.
"It's tough, but, you know, you do what you gotta do," Daniela said.