Tonganoxie wins home invitational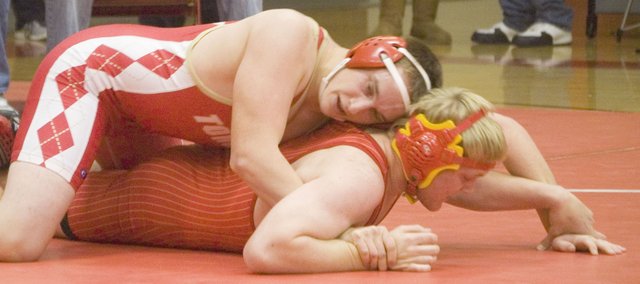 Tonganoxie — Fresh off a 78-0 blowout of Ottawa, the Tonganoxie wrestling team returned to its own gym on Saturday. It did so did so in search of a strong finish to the semester.
The Chieftains got the result they were looking for, winning the Randy Starcher Memorial Wrestling Invitational with a team score of 364.
"I think, week in and week out, we kind of pick up from where we left off," head coach Jeremy Goebel said. "They've got that mentality of going out and getting the job done from start to finish. That's something the kids have prided themselves in throughout the year."
Every Tonganoxie wrestler played a role in the team score, as none of the Chieftains' 14 participants finished worse than third.
After pool competition, four THS wrestlers battled their way to third- and fourth-place matches. All four came away victorious.
Freshman Sinjan Gergick (5-2) took the bronze medal in the 106-pound division, pinning Doniphan West's Derick Sherman. Senior Ryan Lynch (11-6) followed suit with a pin of Olathe Northwest's Trevor Bowley in the 170-pound match. Junior Thomas Miller (7-5) took a 2-1 decision against J. Wilburn from Atchison in the 195-pound match, and junior Ty Barton (9-6) rounded out the Chieftains' third-place finishers with a pin of Piper's Caleb King in 285-pound competition.
Following the consolation matches, 10 Tonganoxie wrestlers took to the mat for the finals. Seven walked away with gold medals.
"I thought we wrestled tough," Goebel said. "Any time you can have that many kids win a championship, it's a credit to what the kids are doing in the practice room.
"We talked about finishing. We didn't want to get 10 kids there, then go 0-for-10."
Tonganoxie got off to a strong start in the championship round, as the first six Chieftains won their matches. Freshman Dalton Tavis (15-4) pinned Blue Valley West's Jake Williams in 46 seconds to win the 113-pound division. Sophomore Clayton Himpel (15-2) won the 120-pound class with a second-round pin of Atchison's Blake Wilson, and junior Caleb Himpel (8-3) kept the ball rolling when he pinned Doniphan West's Gabby Spear in the first round of the 126-pound title.
After watching their teammates open the finals with three straight pins, a trio of Chieftains showed their ability to win tightly-contested matches. Junior Joe Wolf (15-3) held on for a 7-3 win over Bishop Ward's A. Ramirez in the 132-pound match, freshman Asher Huseman (13-3) earned a 9-4 win against Atchison's Tyler Harris in 138-pound competition and senior Adam Thomas (8-2) picked up a 10-4 victory over Shawnee Heights' Carter Hall in the 145-pound final.
After second-place finishes by senior Matt Soetaert (12-6), sophomore Luke Carey (7-8) and junior Julius Coats (11-7), sophomore Zeke Kissinger (14-5)wrapped up Tonganoxie's final match in thrilling fashion. Kissinger found himself in a stalemate with Shawnee Heights' B. Taliaferno, but broke through late for a 9-3, six-period win in the 220-pound class.
Saturday's tournament was the Chieftains' final home competition and their last of any kind until a dual at Louisburg on Jan. 7, so Goebel said it was important to enter winter break on a high note.
"We wanted to finish strong. For the seniors, it was their last match at home and our last match of the semester. It's a great builder to go into this break."