Chieftains start hot, cruise past Mavericks at home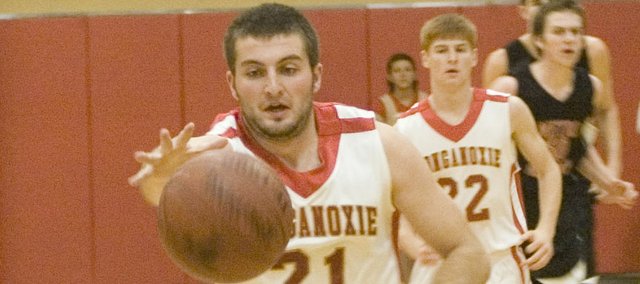 Tonganoxie — Over the last two weeks, the Chieftain boys basketball team showed it was capable of winning close games. Tuesday's home date against Metro Christian Academy provided a change of pace.
Tonganoxie (3-1) came sprinting out of the gates and never looked back in a 51-33 victory over the Mavericks.
"Something that we've tried to stress is getting off to a good start," THS coach Shawn Phillips said. "We had two games in a row when we really didn't start really well and had to play out of a hole."
Senior Dane Erickson gave the Chieftains an early 3-0 lead with a layup and a free throw, but that's all the offense either team could muster for more than four minutes. However, another basket by Erickson got Tonganoxie on track with 3:44 left in the first quarter.
Metro Christian remained cold, missing the mark on its first nine shot attempts. The Mavericks didn't get on the scoreboard for more than six minutes. The Chieftains capitalized on the opportunity and took a 13-4 lead at the end of the opening period.
The second quarter was more of the same, as Erickson teamed up with junior John Lean to form a one-two punch Metro Christian couldn't handle. Erickson provided a solid post presence, while Lean cashed in on several fast breaks and transition layups.
Lean and Erickson led the Chieftains with 14 and 13 points, respectively.
"Dane Erickson has just been Mr. Consistent for the last three years," Phillips said of the 6-foot-6 senior. "He's been very reliable. He shoots a high percentage in the paint. John Lean just has a natural feel for the game. He's a kid that can make plays."
The Mavericks continued to struggle on offense, allowing Tonganoxie went into the locker room with a 27-9 lead.
Metro Christian shot just 19 percent in the first half, going just 4-of-21 from the field. Meanwhile, the Chieftains shot 57 percent, connecting on 12-of-21 attempts.
Defensively, Phillips' group was able to limit the Mavericks to minimal production in the paint. Metro Christian forward Isaac Kreuer — listed at 6-foot-10 on the team's roster — was held scoreless in the first half.
Kreuer didn't fare any better after intermission, finishing the night 0-for-9.
"We knew that their strength was in the post, so we tried to eliminate anything close," Phillips said. "We tried to pressure their guards so they couldn't see in the post, then play a little help off the backside. We did a pretty decent job of walling up and making them try to score over us."
With the lead well in hand, Phillips used the second half to get his reserves some extended minutes. The starters were all out by the end of the third quarter, but the Chieftains didn't let up defensively. Metro Christian only scored eight points in the period and Tonganoxie extended its lead to 37-17.
Maverick guard Josh Lewis and forward John Palmer hit some fourth-quarter shots to make the final score more respectable, but the end result was never in question.
The Cheiftains have now won three straight. They'll take some time off before returning to practice on Dec. 27. They won't face any live competition until Bonner Springs pays a visit on Jan. 3.
"We always like to see the wins racking up, but we've got a tough schedule coming up in front of us," Phillips said. "We've got solid teams, some of which are on the road, so we've got to be ready to go. We've got to get better over break and come ready to play."