Methodist minister makes return to hometown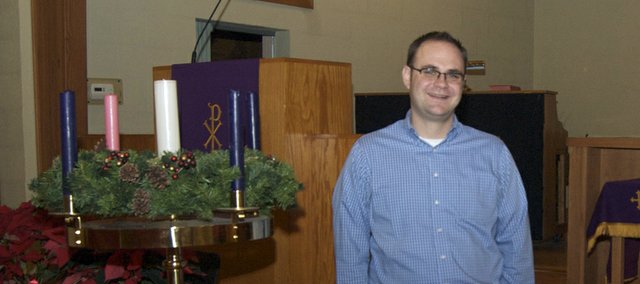 Tonganoxie — Rev. Jeff Clinger's newest congregation provided a homecoming of sorts.
Clinger became pastor at Tonganoxie United Methodist Church in July.
His family attended church at Lawrence United Methodist Church, and he is a 1998 Tonganoxie High School graduate, so he's more than familiar with the community.
His family has been friends with Phil and Jeanie Williams' family "since the time I was born," Clinger said. Phil and Jeanie were longtime teachers in Tonganoxie. Another instructor, THS speech and drama teacher Steve Harrell, was one of his mentors, Clinger said.
The Williams and Harrell families also both attend Tonganoxie United Methodist Church.
"I did speech and debate and theater," Clinger said, referring to activities under Harrell's guidance. "I did speech for four years in college.
"I had Kathy (Harrell, Steve's wife, as a teacher) in eighth grade. I argued all the time with another girl."
Clinger said Kathy told him "'You should really take my husband's debate class next year.' I got hooked. It was great."
After graduating from THS, he attended Nebraska Wesleyan in Lincoln, Neb. He graduated there in 2002. He married Heather Stuffron of Lawrence that summer. They then attended Garrett-Evangelical Theological Seminary in Evanston, Ill., on the Northwestern University campus. In 2005, he graduated with a Master of Divinity degree and later worked as associate pastor of Ridge United Methodist Church in Munster, Ind., where Heather was on staff as director of contemporary worship.
In 2008, he was ordained elder in the North Indiana Conference and later that year they returned to Kansas. He served at the United Methodist Church of the Resurrection in Leawood and later took an interim appointment to serve at the Easton and Southern Heights United Methodist churches.
In July, he was named the newest pastor at Tonganoxie United Methodist Church, replacing Rev. Francis Stockton, who retired.
Clinger said returning to his hometown has been a good fit.
"I think it's been really helpful more than challenging," Clinger said. "It could have been challenging if anyone wanted to make it so, but I don't think anyone has."
Clinger also has gotten involved in the community in other ways, serving on the Tonganoxie Chamber of Commerce board.
"There have been a lot of fun reunions and those sorts of things," he said.
The THS graduate credits a smooth transition to his newest church with the work of Stockton, who served in Tonganoxie the past two years.
"He did a phenomenal job here in his two years," Clinger said. "There's a great energy here right now and that's because of Francis.
"I'm getting to reap the benefits of that. I'm the new guy and that's exciting, but he did some really great work."
Jeff and Heather Clinger have a daughter, Hannah, who is 2. They also are expecting a second child in a few months. Heather works at Neu Physical Therapy in Lawrence and also is director of Contemporary Worship at First United Methodist Church in Lawrence. Jeff's mother, Barb Clinger, is a retired teacher who taught in Tonganoxie and now is pastor in Ottawa. She and Jeff's father, John Clinger, live in Lawrence.
In getting reacquainted with the community, Clinger and a total of nearly 120 community members met in a series of 11 small-group gatherings during a two-month period. The group reflected on four different questions:
• What does Tonganoxie UMC do well?
• If you could change one thing about Tonganoxie UMC what would it be?
• What are the greatest challenges/opportunities facing Tonganoxie UMC?
• What are the greatest unmet needs of our community?
From those meetings, an all-church retreat took place in early November and four themes that were priorities for the church were identified: inviting, connecting, growing and serving.
Clinger said the church has a large cross-section of members ranging in age from 20s to 90s who work together, which he said offered exciting potential for the church.
In downtown Tonganoxie since 1869, the church has deep roots in the community and will be looking at what its future might hold. He pointed out that the church would celebrate 150 years in 2019.
"I'm excited about where we are, whether it's on this property or somewhere else," he said.
Clinger is gearing up for Christmas, as the church will have services at 7 p.m. and 11 p.m. for Christmas Eve Saturday and 10 a.m. Christmas morning on Sunday.
The church's normal service times are 8:30 a.m. and 10:30 a.m. on Sundays. Youth group, for fifth- through 12th-graders, meet at 6:30 p.m. on Wednesdays and will resume in a few weeks. The church also has a United Methodist Women group.
And coming next month, the Tonganoxie church will join with McLouth United Methodist Church for its annual Souper Bowl Challenge in which groups collect food for the needy.
"It's a great area," Clinger said about Tonganoxie's location. "There's a specific voice of the mainline Protestant stream that may not be represented as fully in Tonganoxie, and we would like to expand that."