Tonganoxie girls survive scare, down Metro Christian for third straight win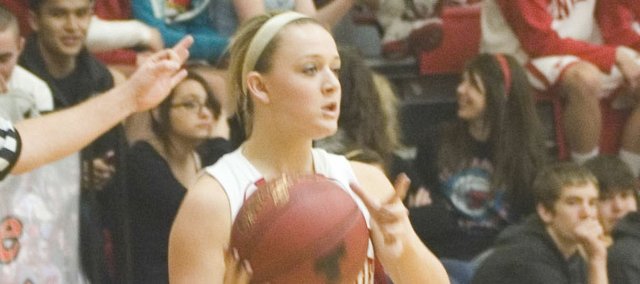 Tonganoxie — After watching a 16-point lead dwindle to four in less than two minutes, the Tonganoxie girls basketball team was in need of a boost.
Despite playing most of the period with four fouls, junior Jenny Whitledge proved more than capable of shouldering the load.
Whitledge scored nine of her game-high 17 points in the fourth quarter and the Chieftains (3-1) extended their win streak to three with a 57-45 win over Metro Christian Academy on Tuesday.
Tonganoxie entered the final period with a 43-31 advantage. That lead grew to 47-31 with less than six minutes left, but the Mavericks' offense caught fire in a hurry. Metro Christian reeled off 12 straight to pull within four, prompting a timeout from Chieftain coach Randy Kraft.
"We had to get our composure back and understand what was happening in the game." Kraft said. "They were hitting a couple of shots and we were rotating as well out defensively as we had been. Offensively, we were not as aggressive as we needed to be."
Kraft put Whitledge back on the floor after the timeout, and she drilled a 3-pointer off the inbound pass. Whitledge then found a lane and sunk a layup to push Tonganoxie's lead back to nine with 2:46 remaining.
The Mavericks used a full-court press for most of the period, allowing Whitledge to break free for two more easy buckets, which extinguish the comeback attempt.
"When they come to press, there's no help defense there and Jenny is pretty hard to stop one-on-one," Kraft said. "She knows that. We really had to take care of her, but we needed her in there offensively."
Neither team could establish a clear advantage early on, as the Chieftains led by just three after the first quarter. Sophomore forward Emma Stilgenbauer fueled the offense early on, scoring nine points in the opening period.
Stilgenbauer, as well as senior Tavia Brown, got several looks under the basket, which allowed Tonganoxie to extend its lead to 25-17 at halftime.
Brown and Stilgenbauer finished the game with 16 and 15 points, respectively.
"For the most part, I'm pretty happy with (our post play)," Kraft said. "I think we could have went to it even more. That's what happened when they made their run. We fell in love with the jump shot and not getting the ball reversed to (Brown and Stilgenbauer). Other times, I think we tried to stuff it in there too quick."
The third quarter turned into an offensive shootout, as the Chieftains and Mavericks combined for 32 points. Metro Christian came out firing and narrowed the deficit to 33-29, but Tonganoxie closed out the quarter on a 10-2 run.
Kraft's squad will take its three-game winning streak into winter break. It won't return to the hardwood until a home date with Bonner Springs on Jan. 3.