BSHS

choir gets air time for holidays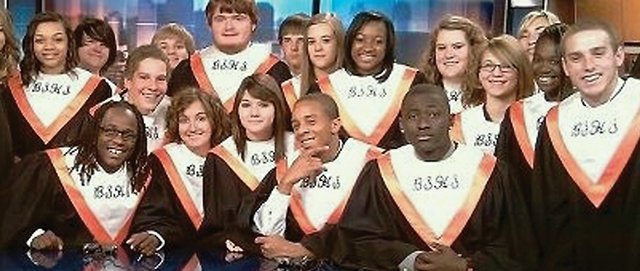 For Bonner Springs High School junior Deidra Elijah, singing is both a passion and a commitment she says takes precedence over everyday activities — even sleep.
"Because music is life. It makes me feel happy," she says. "So I don't mind getting up that early if it's for choir. Other than that, I'd rather be in my bed."
Elijah sings in the BSHS A Cappella Choir, which meets at 7:45 a.m. for rehearsal daily during first period. But she gets to school each day even earlier to rehearse as part of Project X, a smaller BSHS music ensemble that meets at 7:05 a.m.
Elijah isn't alone in her dedication — there are 45 students in the A Cappella choir alone, all of whom had to audition and be accepted into the choir by Brian White, the school's director of choral activities and music department chair.
But the hard work is paying off. For the second time the choir was invited to perform as part of NBC Action News' "Sounds of the Holiday" broadcast, which will feature Christmas-themed performances from 14 area choirs. The show is scheduled to air several times over the holiday weekend on KSHB-TV and KMCI-TV
The choir was invited in 2010, as well, White said.
"Last year they contacted us" about performing on the show, he said, "and they contacted us again this year."
This time around, White said the A Cappella choir was pressed for time to get the appropriate Christmas music together, as he was only asked by NBC Action News about the choir being a part of the broadcast about three weeks before the recording would take place. But choir members got it together, preparing a jazz rendition of "Deck the Halls," as well as two other Christmas selections.
Early Nov. 2, the A Cappella choir entered the NBC studios in Kansas City, Mo., to do the recording. The visit also included a tour of the studios and a chance to see a live taping of the morning weather report.
"It was fun to go there," said Shane Crosby, a BSHS senior who was also a member of the A Cappella choir last year when it was featured as part of "Sounds of the Holiday." "I'm going to miss not being able to come to this class and do all the things that we get to do."
White said, just as he was last year, he's looking forward to showing those in the Kansas City metro area exactly what his students are capable of.
"I think we'll open some eyes because … I don't think Bonner Springs and outstanding choral choir work have really been synonymous," White said. "So I think it will open some eyes (and people will think) 'Wow, they have a good program there in Bonner Springs.'"
He said the real reward was giving his students an experience they wouldn't soon forget.
"It's something they will always remember when they think back to their high school years," White said. "And that's one of the big takeaways for me is giving them an experience and some memories."
Other choirs to be featured during "Sounds of the Holiday" include the Kansas City Kansas Community College Choir and the Tonganoxie High School Choir. The broadcast will be shown at the following times and on the following stations:
• Noon to 2 p.m. Saturday, Christmas Eve, on KMCI (Time Warner Cable channel 8) and KSHB (Time Warner Cable channel 13)
• 7 a.m. to 9 a.m. Sunday, Christmas Day, on KSHB (Time Warner Cable channel 13), and 5 p.m. to 7 p.m. Sunday on KMCI (Time Warner Cable channel 8).