2011 achievements lead to national Blue Ribbon nomination for
BLHS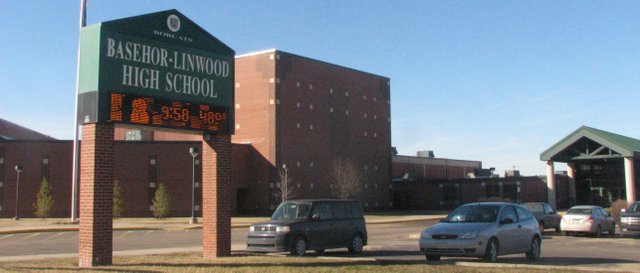 2011 Kansas Blue Ribbon Schools Award nominees
Schools scoring in the top 15 percent on reading and math assessments:
• Basehor-Linwood High School
• Blue Valley High School, Stilwell
• Goddard High School
Schools showing improvement on state assessments with at least 40 percent of students coming from disadvantaged backgrounds:
• Garden City High School
• Marshall Elementary School, Eureka
At the end of a year of encouraging improvements, last week the Basehor-Linwood school district received perhaps its best news yet when Basehor-Linwood High School was announced as a nominee for a 2012 National Blue Ribbon Schools Award.
But achievements from earlier this year — a jump in average ACT scores and a best-ever performance on state assessments — are likely what made BLHS stand out enough to be one of just five Kansas schools nominated for the honor, principal Sherry Reeves said.
"Those are numbers that are very visible throughout the state," Reeves said.
The Blue Ribbon Schools honors recognize elementary and secondary schools that help close the achievement gap among disadvantaged students as well as schools that score high on state assessments regardless of their student population. Kansas Education Commissioner Diane DeBacker announced her 2012 nominees Wednesday, and the U.S. Department of Education will select the winners in September 2012.
The state can select only five schools to compete for the honor each year, so a nomination is no small honor, said Kathy Toelkes, a spokeswoman for the Kansas Department of Education.
"It's a difficult thing," Toelkes said. "We have a lot of schools that do a pretty good job here."
BLHS was eligible for a nomination because it finished among the top 15 percent of Kansas schools in performance on state reading and math assessments. But beyond that qualification, Toelkes said, the committee that selects the Blue Ribbon nominees looks for solid state assessment performance among all demographic subgroups at each school, and it looks at schools' past performance on the tests to see if scores have been consistently high and constantly improving over the last five years.
"This speaks very well for the school, for the staff that's working there, for the students who obviously are turning in the performance," Toelkes said.
Reeves said that BLHS students and teachers had pushed each year for higher assessment scores. Students' statewide recognition in co-curricular areas such as music, forensics and debate may have also helped the school draw attention across the state, she said.
"It's nice to be recognized for the hard work, the hard effort that the students and teachers are putting forth," Reeves said.
Earlier this year, the district learned that average ACT scores from the class of 2011 had increased by a full point from the previous year's scores, that the district had met the federal Adequate Yearly Progress standard for 2011 after falling short in 2010 and that state assessment scores had earned it a district-record 33 state Standard of Excellence awards.
Now that it's been nominated for a Blue Ribbon award, BLHS will need to submit a lengthy application to the U.S. Department of Education to be considered, Reeves said, including information about those achievements, the school's demographic information, details on curriculum and staff and more.
Toelkes said all of the state's Blue Ribbon nominees typically ended up receiving the national honor.
If BLHS does win the award, it will be an achievement for the whole surrounding area to share, Reeves said.
"It would be a recognition that the whole community could take a whole lot of pride in receiving," Reeves said. "It's a testament to the support of the community and parents."