Couponer happy to share obsession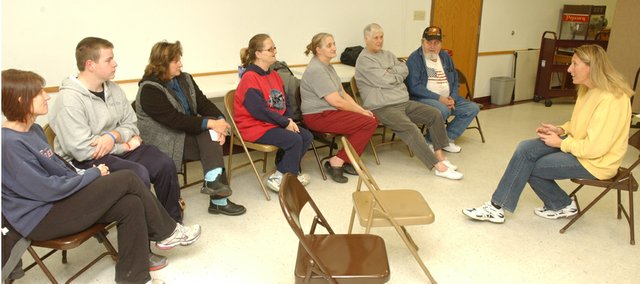 Like a fisherman recalling a prize catch, Desiree Leeper can recount the details of her successful couponing outings.
"I've been to Target where my bill was $250, but with my coupons and their matching, I whittled that down to $56," she said. "That's a thrill."
Her excitement in recalling the experience reveals that although saving money is at the heart of her couponing, it affords thrills beyond such routine tasks as balancing a checkbook.
"I consider it my hobby," she said. "I really enjoy doing it. It's a hobby, but it saves me money.
"If you do it on the level of maximum savings, it takes about eight to 10 hours a week. That includes shopping."
That doesn't seem too much to dedicate to a hobby, Leeper said. Chiefs fans burn up that number of hours per week going to home games, she argues.
But Leeper, who runs a daycare, confessed it was difficult to dedicate that much time to couponing recently because of holiday activities and obligations.
As with fishing, knowledge increases success in couponing. Leeper studies such things as what stores are currently coupon-friendly, what stores match coupons offered by competitors, when stores are running sales or related promotions that cut prices even further, and where to get coupons.
But unlike some fisherman who are stingy with the location of a favorite fishing hole, Leeper is more than willing to share details of her hobby through her Facebook page Tongie Coupon Obsession or at a class she offers at 6 p.m. the second Monday of every month at the Tonganoxie Public Library.
"I used to text people, 'Oh my God, get here now,' " she said. "Now I'm trying to use my Facebook page and have other people add to it."
As for her library class, Leeper said her approach varied month to month depending on who attends.
"I really don't know what I'm walking into every month," she said. "I try my best to meet the needs of those attending. If I have several brand new people, obviously they get the startup speech. Last time, it was older people. I talk to them about coupon policies people were coming up with."
Mary Ann Reno said she had learned much from Leeper in the two months she attended the class with friend Deanna Cassella.
"We learn what stores will double the coupons, and what stores will match others," Reno said. "It's nice to know. I've probably saved $200.
"People don't realize the money they are throwing away."
Leeper is just sharing what others have shared with her.
"One of my daycare moms is a very avid couponer," Leeper said. "I told her I've tried it, but only save $20 to $30. She said, 'You're doing it wrong.'
"Couponing, if you do it correctly, it changes the way you shop."
The secret to making the most of coupons is to stop buying for immediate needs, Leeper said. Rather, she waits to use coupons in association with promotions to buy larger quantity.
"With my daycare, I usually buy sets of 10," she said. "You can do it on any level you want. I have a friend that only gets sets of five.
"The last time I bought cereal was in August. I bought a ton of cereal."
One source Leeper doesn't endorse is the TLC Nework show "Extreme Couponing," which she finds staged and unrealistic.
"I hate it," she said. "I've never had a checkout person follow me around with a shopping cart."
Leeper also objects to shoppers on the show bragging about actually making money through the use of coupons.
"If you get an overage, quietly walk away," she said. "You don't put it on TV."
Instead, Leeper recommends krazycouponlady.com and other websites she shares with her class. With that direction, she said to buy Sunday newspapers and get started.
"Watch the sales ads," she said. "When an item is on sale for very low price, that's when you go and buy it and use your coupons to make it ever cheaper. Buy as much of that item as you can store. Laundry detergent, trashbags, frozen food — there are very few things that have an expiration date you have to worry about.
"Energy-saving light bulbs — I saw a hardware store that had them advertised for $1. I had $1 off coupons. It was in Missouri, so I didn't even have to pay sales tax."