'

No' vote No. 1 in 2011
School bond defeat readers' pick for year's top local story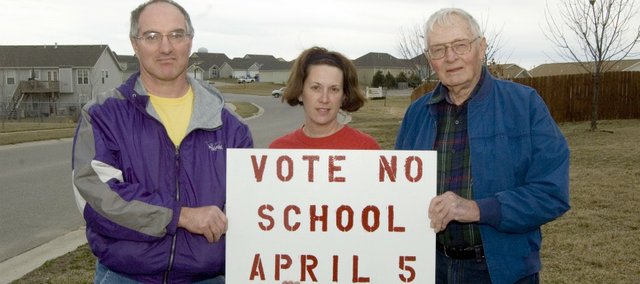 The calendar soon will read "2012," but before we enter the new year, here's a look back at the top stories, as determined by Mirror online readers.
Readers selected the top five stories from a list of 10 stories Mirror staff nominated.
Here is a closer look at the top five stories:
USD bond issue fails
Tonganoxie's last bond issue passed in 2004, but an April bond issue did not have the same fate.
The final official tally was 1,121 no votes to 683 yes votes. The "no" votes carried about 62 percent of the vote.
The bond issue, if passed, would have funded a new intermediate school as well as high school and elementary school upgrades.
A group opposed to the current bond issue, The Committee for the Kids, organized in the final weeks before the election with the message that the district needed a new elementary school but should not use the proposed plan.
The successful 2004 bond issue funded a new middle school and upgrades to the high school and elementary school, passed in 2004. The last bond issue before 2004 was in the late 1980s when a new junior high — now part of the high school campus — was built.
Mike Yanez voted out as city administrator
The Tonganoxie City Council voted, 3-2, not to extend the contract of City Administrator Mike Yanez.
The vote came at the end of an Aug. 22 meeting that saw the council approve the 2012 budget. After three executive sessions on matters involving non-elected personnel, Councilman Dennis Bixby made the motion not to extend Yanez's contract and to start a search for a new administrator, which was seconded by Councilman Bill Peak. Councilman Andy Gilner joined them in voting for the motion.
The vote was made with no debate or comment. Yanez's current contract with its $87,838 annual salary is set to expire Dec. 31.
However, a replacement has yet to be hired.
Bixby said the day after the meeting that the move was made for the best of the city.
"I'm sure Mike has some good qualities," he said. "It's not anything personal, but different businesses and community members had expressed a need for change when I was running for office, so I think we needed to take a different direction moving forward."
After the meeting, Yanez said he would be leaving Tonganoxie with a legacy of accomplishment.
Yanez was hired as Tonganoxie city administrator in February 2005, leaving a similar position with the city of Eudora. Perhaps the most significant project during his time with the city was the construction of the popular new water park.
During Yanez's first years with Tonganoxie, the city enjoyed a housing boom as its population increased from 2,728 in 2000 to 4,416 in 2010. But that growth disappeared with the 2008 economic downturn and with it Yanez has overseen three tough budget cycles.
Earlier in August, Ward and Peak expressed disappointment when it was learned days before the council was to vote on publishing the 2012 budget that there had been two errors in calculations presented the council during its month-long budget deliberations. Peak followed up with questions on the city's budget oversight process.
Mark Elston resigns
Tonganoxie High football coach Mark Elston didn't think his last day as Tonganoxie High football coach would come two days before the start of the season.
He deemed that necessary, though, after being suspended from his coaching duties by school officials following events that took place between Elston and a player during an Aug. 29 practice.
On Aug. 31, Elston submitted his resignation.
"I just did what was best for the kids," Elston said of stepping down. "We've got to move forward on this and there's no point dragging it out… For their sake, for my sake, for the betterment of my family and those kids, let's move on."
The embattled former coach did not wish to divulge the exact details of the Aug. 29 altercation, such as which player he was reprimanding or what he said or did during the exchange. The Mirror later confirmed that the player Elston got after was sophomore linebacker Jordan Boudreaux.
What Elston did say, however, was that Boudreaux was being scolded because he had just "flat annihilated and blindsided" freshman quarterback Carl Hecht even though Hecht was wearing a green jersey, which signifies he's not supposed to be touched.
In the moment, Elston said, his immediate reaction to get the situation solved was to verbally go after Boudreaux for making a hit that left Hecht lying injured on the ground.
"I've got to protect my players by whatever means necessary," Elston said.
Boudreaux's grandfather and guardian Jules Boudreaux told The Mirror he thought Elston responded in the correct manner. Jules described Jordan's account of the situation: While removing defensive players from the pile on top of Hecht, Elston picked Jordan up — not to hurt him, but to verbally discipline him.
"There was some instruction being given to him in a loud manner but that's not a confrontation really," Jules said. "It's an emotional game for players and coaches."
Jules said Elston didn't use any "vile language" or physically abuse Jordan while yelling at him. Jordan told his grandfather he was not upset about the coach's approach.
Said Elston: "As coach and a parent, I did what I thought was correct at the time of action — at that time for that individual."
Elston, who was beginning his 12th year in Tonganoxie, said he had warned Boudreaux before about the hits he was delivering at practices.
"I love him to death, but I've been on him for three weeks now to stop it and I reached my limit," Elston said.
The coach said he was caught up in the moment and he understands how others could disagree with his actions at that time.
Heading into the new year, Elston's replacement has not yet been determined.
Kyle Hayden resigns as Tonganoxie USD 464 superintendent; Randy Weseman hired on interim basis
An administrator swap of sorts took place in June. Tonganoxie superintendent Kyle Hayden resigned to take the chief operations officer position with Lawrence Public Schools. And though Randy Weseman was retired, he was a longtime educator and then administrator with Lawrence Public Schools. Weseman accepted the position of Tonganoxie USD 464 superintendent on an interim basis, replacing Hayden, who came to Tonganoxie first as assistant superintendent in 2008 before becoming superintendent a year later.
Hayden left Tonganoxie to oversee divisions of finance, human resources, facilities and maintenance, food services, transportation and technology services. The Lawrence school district employs about 1,600 teachers and is one of Lawrence's largest employers. It's also the seventh-largest school district in Kansas. Lawrence Public Schools serve roughly 10,600 students from pre-kindergarten through grade 12. Tonganoxie has 1,900 students in its district.
Hayden also noted it wasn't an easy decision leaving Tonganoxie.
"It was a little gut-wrenching actually," Hayden said. "The time I spent here. I felt like we accomplished a lot of good things and made some really important hires and moved some people into important leadership positions. I think we made a positive difference over the last few years."
For Weseman, heading to a smaller school district in Tonganoxie wasn't a major transition.
"I'm certainly aware of how small towns work and the issues they face," Weseman said in June. "They all want the best for their kids and their community and that's how I plan to serve them."
At the time of his hire, Weseman said it was "a pretty easy decision" accepting the job.
"I think it's going to be a pretty good marriage for a year," Weseman said.
The marriage is lasting longer than expected, though, as the board recently extended Weseman's contract for a year.
THS student Kylee Wilson dies in vehicle accident near Basehor
The community mourned the loss of a Tonganoxie High School student who died in a July 7 rollover accident near Basehor. Kylee Wilson, who was 16, died in the accident, which happened just east of 150th Street and U.S. Highway 24-40.
A vigil took place July 9 outside Tonganoxie High School where more than 150 people gathered. Purple ribbons — representing Wilson's favorite color — were distributed at the vigil. A Facebook page that was created in remembrance of Wilson, "R.I.P. Kylee Nicole Wilson," has more than 2,200 members.
Wilson was remembered for routinely having a smile on her face and making others smile as well. She also was very much involved with the THS dance team. One memory that was shared after her death by a classmate: Kylee's tendency to try to fit into small spaces, such as a teammate's duffle bag. It was estimated that more than 400 people attended her funeral at the Family Life Center in Genesis Christian Academy.
Other stories that were nominated for the top 10 were:
• McLouth High School student Justin Johnston killed during a school trip to Costa Rica.
• Continued work to develop an industrial park near County Road 1.
• Increase in businesses opening in Tonganoxie, including O'Reilly Auto Parts on U.S. Highway 24-40 and various businesses downtown. Work has started on an El Mezcal restaurant on U.S. 24-40 as well.
• February incident between Tonganoxie police and man outside his parents' home. Police fired at the man, who was holding a gun. The incident involved Jeff Roberts, who was staying at his parents' home. The bullet hit the shotgun the man was holding. He recovered from the incident, but died later in the year.
• Spring elections for city council and school board. In addition to the bond issue failing, local races also were decided. Incumbent Bill Peak and challenger won election for two seats, beating out incumbent Paula Crook. In the school board race, Gene Becker defeated Jonathan Boone and Tamara Behm for the at-large position. Becker replaced longtime board member Mildred McMillon, who decided not to seek re-election. USD 464 board members Kathy Baragary, Leana Leslie and Diane Truesdell all ran unopposed.