Tonganoxie wrestlers return to mat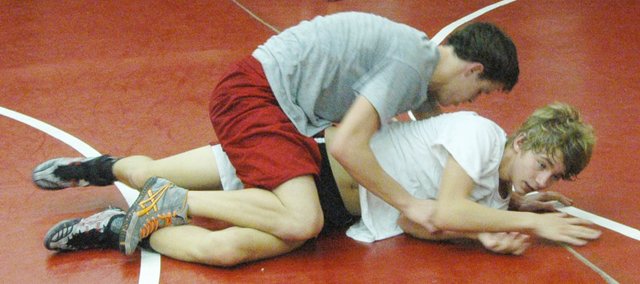 In the world of wrestling, a week away from the mat can be an eternity. Even a few days removed from the sport's vigorous workout routine could set athletes back a great deal.
However, when Tonganoxie High returned to the wrestling room on Wednesday, coach Jeremy Goebel's team was as ready as ever.
"You're going through that routine you were consistently going through, week in and week out, but that little break kind of makes it a little tough on your body," Goebel said. "But, overall, I didn't see a whole lot of rust. The kids looked pretty crisp, actually.
"The kids, you could tell they were kind of chomping at the bit to get back in the room. They had a lot of enthusiasm. You could tell they missed it and they wanted to be in here for sure."
The Chieftains haven't laced up their wrestling shoes since they hosted the Randy Starcher Memorial Invitational on Dec. 17. They won't return to live competition until a trip to Louisburg on Jan. 7. In the meantime, they'll spend some time returning to their regular practice routine, which helped them to plenty of success in 2011.
Tonganoxie opened the season in style, winning the Wamego Invitational on Dec. 3 with a team score of 206. Less than a week later, the Chieftains headed south for the Eudora Tournament of Champions. They combined for 198 points — good enough for third in the team standings — and four top-three finishes.
After proving they could succeed on the road, Tonganoxie returned to its own gym for a triangle with Santa Fe Trail and Ottawa on Dec. 15. It opened with a 43-28 win over the Chargers, then recorded 10 pins en route to a 78-0 shutout of the Cyclones.
The Chieftains wrapped up the semester with their home tournament on Dec. 17. They combined for seven individual titles and won the tournament with a team score of 364 points.
Now, as they prepare for the remainder of their schedule, Goebel continues to emphasize the importance of the teamwork and selflessness that led to their hot start.
"I think the kids, when they walk out there, they expect to compete as a team and give everything they've got," he said. "They know the person in front of them or behind them is going to do the same. It's more of a 'we, not me' concept. Their cohesion has gotten them this far and it's only got to get stronger down the home stretch."
TONGANOXIE WRESTLING NOTES
Through Tonganoxie's first five competitions, sophomore Clayton Himpel and freshman Dalton Tavis lead the team with 15 wins each. Himpel's season record currently stands at 15-2, while Tavis owns a 15-4 mark. They lead a group of eight Chieftains who have already recorded double-digit victories this season. As a team, Tonganoxie is a combined 196-98.
Himpel, a state qualifier last season, leads the teams with 10 pins and has not been pinned by any opponent. Seniors Matt Soetaert and Ryan Lynch each have nine pins. Soetaert also leads the team with 15 escapes.
Three Chieftains have more than 25 takedowns. Himpel leads the pack with 30. He's joined by junior Julius Coats and sophomore Joe Wolf, who have recorded 28 and 26, respectively.
A trio of freshmen were instrumental to the team's early success. Tavis, Asher Huseman and Sinjan Gergick are a combined 33-9 this season, including five top-three tournament finishes.
Six seniors have competed in their final home meet. Lynch, Soetaert, Anthony Baker, Caleb Himpel, Adam Thomas and Jake Spencer were honored in a Senior Night ceremony before the Chieftains' dual against Ottawa.