Tongie boys focus on growth, utilizing momentum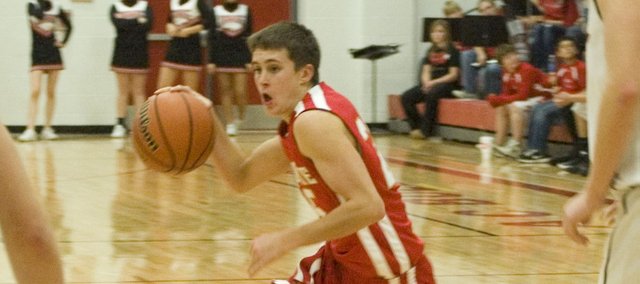 What a difference four games can make.
When the Tonganoxie High boys first set foot on the basketball court this season, they did so with some uncertainty. With a relatively young lineup and playing time up for grabs, the Chieftains (3-1) had plenty of questions to answer in the early going.
However, coach Shawn Phillips' squad worked its way through its early-season growing pains and ended 2011 on a three-game win streak. Phillips and company returned to the hardwood on Wednesday with their sights firmly set on continued success in the upcoming semester.
"We're looking forward to these first couple weeks," Phillips said. "We've got some really tough teams coming up on our schedule. Several of them are at home, so we're excited for that opportunity. We've got a big challenge in front of us. We're looking forward to seeing where we're at, and hopefully we can compete at that level as well."
After opening the season with a 74-38 loss to rival Basehor-Linwood, the Chieftains rebounded with consecutive victories over Bishop Ward, Anderson County and Metro Christian. They'll open Kaw Valley League competition when they host Bonner Springs on Jan. 2.
Before the Braves pay their visit, the Chieftains will try to shake off any cobwebs that may have gathered over break.
"We were a little rusty coming back in," Phillips said. "They had about a full week off. The biggest adjustment was getting back into the routine of things. With the time off, they'd been staying up late and sleeping in late. We'll just continue to work and polish up some things.
"I'd like to see us be physically strong on the floor and compete. We need to play with a little bit of attitude. That takes time, especially when you've got some younger kids playing."
The Chieftain head coach added he'd like to see younger players continue to grow into their roles as the season progresses. Several underclassmen saw significant playing time in Tonganoxie's first four games, and Phillips expects that experience to pay off down the road.
"With younger kids, you usually see the most growth trough an individual season," he said. "We just hope they'll continue to make big jumps. They've got to know they're not just out there to fill minutes, but they're out there to compete and be an integral part of what's going on."
After playing host to Bonner Springs, the Chieftains will travel to Mill Valley on Jan. 6. The game against the Jaguars will be Tonganoxie's only road action until a trip to Basehor-Linwood on Jan. 31.
TONGANOXIE BOYS BASKETBALL NOTES
Through four games, senior Dane Erickson leads the Chieftains in several statistical categories. He has paced the team in points per game (13.8), free throws attempted (22), free throws made (15). He scored a season-high 22 points at Anderson County on Dec. 16.
Despite struggling from the field, junior John Lean has reached double figures in three of the Chieftains' first four games. He's sunk just 37 percent of his shots this season, but is still second on the team with 10.8 points per game.
Senior Dylan Jacobs has been Tonganoxie's most reliable 3-point threat. He is 4-of-5 (80 percent) from beyond the arc this season.
As a team, Tonganoxie has struggled in the first quarter. The Chieftains average just 9.8 points in the opening period. They've been strongest in the third quarter, in which they average 16 points. That includes a 24-point outburst at Anderson County.
The Chieftains have held two opponents to less than 40 points. Bishop Ward managed just 37 against Tonganoxie, while Metro Christian scored just 33, including nine in the first half.