Baldwin again a difficult venue for Tonganoxie wrestlers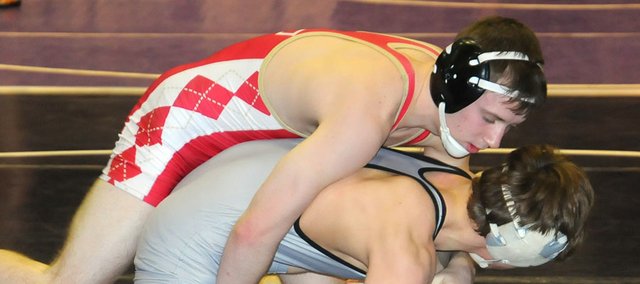 There's something about the Baldwin Invitational that always seems to give the Tonganoxie High wrestling team a bit of trouble.
Whether it is just always scheduled at the time of year when the Chieftains hit a wall or the quality of the competition at Baldwin makes it tough, Tonganoxie hasn't seen a great deal of success at the tournament the past few years.
Saturday was no different.
Although three Chieftains won medals, THS was 11th in the team standings and the combined record for Tonganoxie wrestlers was 23-45.
According to coach Jeremy Goebel, the results were typical for his team at the Baldwin tourney.
"We definitely didn't have our best outing," Goebel said. "Baldwin's a place where our team seems to hit a wall every year. We competed, but it was just one of those tournaments that has quite a few teams that are very competitive."
The 11th-place finish was right around where Tonganoxie had placed at Baldwin in its previous three trips. The Chieftains were 11th in 2010 and took ninth in both 2009 and '08.
"Every year, it's just like the tournament where we don't wrestle very well. It's weird," Goebel said. "It just seems like that tournament every year gets us."
Fortunately for THS, a few of its wrestlers had a successful trip to Baldwin. Junior Nick Pursel (160 pounds) finished first with a 5-0 record, senior Justin Soetaert (125) went 3-2 to place fourth and freshman Clayton Himpel (112) took fifth with a 3-2 record. Sophomore Julius Coats (189), though he didn't place, also had a winning record of 3-2.
Among Tonganoxie's 14 wrestlers, 12 competed in five matches Saturday. Goebel said the tournament format keeps the wrestlers busy.
"I call it a gauntlet because the kids got so many matches," the coach said. "All day, for your team to have (close to 70) matches it's definitely a full day of wrestling."
Even though it wasn't a hugely successful showing for THS, Goebel said there were positive signs.
"It wasn't our best outing, but yet we competed. It's definitely one of those tournaments that will only make us better," Goebel said. "It's just one of those things where a lot of matches, the outcome didn't come in our favor."
If the wrestlers learn from the trip to Baldwin, the team could bounce back and become even stronger, Goebel said. The ultimate goal, he added, is getting to the state tournament in Salina.
"It's a long road to Salina, and there's gonna be a few bumps in there," Goebel said, noting Baldwin was just one part of the season. "In that respect, the kids have wrestled tough all year and we were just a little off."
At 6 p.m. Wednesday, the Chieftains are scheduled to play host to a dual with Spring Hill. Check back at tonganoxiemirror.com to see whether winter weather will force a postponement.
On Thursday, Tonganoxie is scheduled to compete at Lansing in a double dual with Bonner Springs.
Baldwin Invitational
Team scores: 1. Andover Central, 309.5; 2. Oak Park (Mo.), 303; 3. Clay Center, 265; 4. Lansing, 226; 5. Prairie View, 203.5; 6. Baldwin, 164.5; 7. Spring Hill, 158.5; 8. Santa Fe Trail, 150.5; 9. Paola, 147; 10. Eudora, 133; 11. Tonganoxie, 129.5; 12. Perry-Lecompton, 39; 13. Basehor-Linwood, 29.
THS results
(Weight class — wrestler, record, place)
103 — Dominick Estrada, 0-5
112 — Clayton Himpel, 3-2, 5th
119 — Dylan Yates, 1-4
125 — Justin Soetaert, 3-2, 4th
130 — Anthony Baker, 1-4
135 — Colton Brown, 2-3
140 — Adam Thomas, 1-4
145 — Matt Soetaert, 1-3
152 — Ian McClellan, 1-4
160 — Nick Pursel, 5-0, 1st
171 — Thomas Miller, 0-4
189 — Julius Coats, 3-2
215 — Jonas Myers, 2-3
285 — Hank Somers, 0-5