Bulldogs snap out of 3-game slump with 4th-quarter push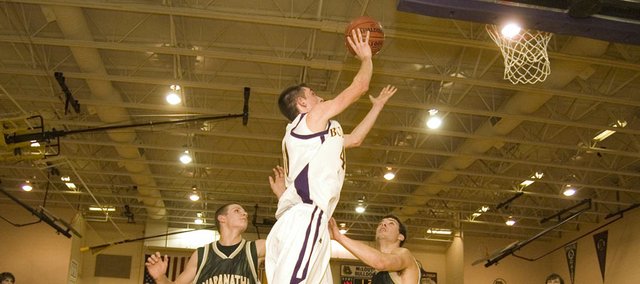 Photo Gallery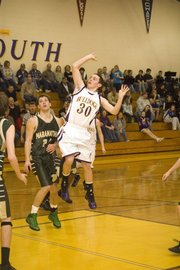 McLouth boys 49, Maranatha 46
The McLouth High boys basketball team stopped a three-game losing streak Thursday with a 49-46 home win against Maranatha Academy.
Though the McLouth High boys basketball team didn't get off to the hottest start Thursday against Maranatha Academy, the Bulldogs closed out strong and snapped a three-game losing streak.
MHS only hit two shots in the second quarter and trailed by four at the half before recovering late for a 49-46 win against the Eagles, a team that contributed to the Bulldogs' 0-3 showing the previous week at the McLouth Invitational.
Maranatha led 32-29 entering the fourth quarter but the MHS inside-outside combination of forward Gavin Swearngin and guard Marc Walbridge rallied the Bulldogs to a victory.
Swearngin, a junior, and Walbridge, a sophomore, scored 15 of McLouth's 20 fourth-quarter points. The 6-foot-2 post said he and Walbridge don't usually carry the team like that, but shot selection helped get things headed in the right direction.
"We had to do more than we usually do," Swearngin said.
With patience, they were able to get quality looks. Walbridge drove in for two layups and his other bucket in the fourth was an open 3-pointer. Swearngin, meanwhile, converted three attempts in the paint and faced up to bury a baseline jumper with 4:20 left that gave McLouth (6-6) its first lead of the second half.
The Bulldogs' ability to work for open shots, coach Jason Schroeder said, was the difference-maker. After struggling in the second quarter — Derek Wright and Alen Kramer had baskets early on, but MHS went scoreless the final five minutes — McLouth thrice hit 3's in the third (one apiece from Walbridge, Wright and Shawn Dailey) and finally began to play its best basketball in the fourth.
"We just stayed patient, actually," Schroeder said. "We found the five kids that were playing really well tonight. Gavin Swearngin, he was clicking. We were able to get the ball inside. Derek Wright, Marc Walbridge, those guys did a great job getting the ball inside to him."
Swearngin's 16 points led the Bulldogs. Walbridge, who scored 12, said the big man was a reliable threat inside.
"Gavin, he always had good position. He doesn't have trouble finishing either," Walbridge said.
According to Schroeder, Swearngin used his footwork and speed to his advantage.
"Gavin did a great job of just being patient in the post. A lot of times he gets a little ahead of himself, because he is a quick kid," the coach said.
Both Swearngin and Kramer showed patience in the post for MHS. When they got the basketball, they sized things up and kicked the ball out if there wasn't a good option.
On a night that McLouth hit six 3-pointers, Walbridge said the starting posts helped set up the long-range buckets by passing the ball to open teammates.
"They've played for three years. They're pretty good at that — like really good," Walbridge said. "Whenever they drive middle and somebody collapses on them or they get in trouble, they look out for us for 3 and that opens them up even more."
Those outside shots weren't falling against Maranatha when the teams faced off less than a week earlier at McLouth's home tournament, where the Bulldogs finished eighth.
Swearngin was glad his team was able to earn a better outcome the second time around.
"It was huge," he said of the win. "We never want to be down."
The Bulldogs have had their ups and downs so far this season. A 2-1 start was followed by back-to-back losses. Then, after a three-game win streak, they lost three straight at their home tourney. Schroeder said the inconsistency was a result of the Bulldogs getting away from being themselves.
"Sometimes we try to play too fast. Other teams that have length and speed, they kind of coerce us into playing their style," he explained. "They get their hands in the passing lane and we just don't adjust."
The coach was pleased to see his team play at the right tempo against the Eagles and put an end to the losing streak.
Score by quarters
MA 15 6 11 14 — 46
MHS 13 4 12 20 — 49
McLouth scoring
Shawn Dailey 2 2-2 8, Derek Wright 2 1-2 6, Marc Walbridge 5 0-0 12, Gavin Swearngin 7 2-3 16, Alen Kramer 1 0-0 2, Nick McAferty 2 0-0 5.