Determined to dominate
Whitledge sets tone for
THS

win at Atchison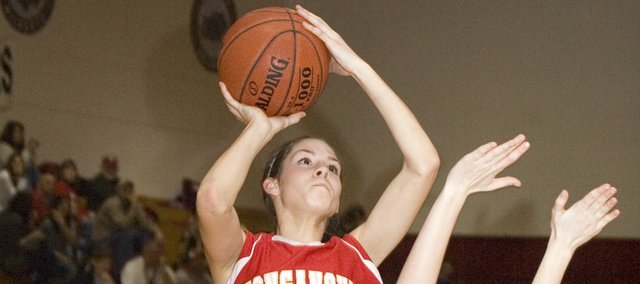 Atchison — The takeover wasn't hostile, but certainly was effective.
With a determined sophomore seizing control of the game early, the Tonganoxie High girls basketball team defeated Atchison, 56-38, on Friday, grabbing its first road victory of the season.
Showing off her athleticism and aggressiveness, Chieftains forward Jenny Whitledge made the most of her touches in the game's opening minutes, scoring Tonganoxie's first nine points in a 13-3 run that let Atchison know THS meant business.
Chieftains coach Randy Kraft said his team came out moving the ball well and that set the 5-foot-9 sophomore up for a 20-point night.
"Jenny was attacking," Kraft said. "We're a much better team when Jenny's looking to attack the basket."
Whitledge said she took it upon herself to help Tonganoxie (4-7) start the game with a bang.
"This was one of those games that we had the mindset coming in that we were going to take over and dominate," she said.
By driving and mixing it up in the paint for her first three scores, Kraft pointed out, Whitledge gained the respect of AHS defenders, which led to more space for her jumpers.
"She has the ability to get to the basket," the coach said of the stringy yet strong sophomore. "She jumps well and she shoots well. She needs to be looking to be more of a scorer and in the past she's been more looking to take the jump shots, but tonight she was looking to get to the basket more and it really helped her outside shot."
The more attention she attracted, the more it helped her teammates. Once Whitledge established herself, Tayler Miles and Madee Walker were able to contribute with field goals. Before long, Tonganoxie was up 24-5 in the second quarter and never looked back.
Even while asserting herself offensively and grabbing a team-high 16 rebounds, Whitledge was a willing passer and twice set up teammates for scores. Kraft said that kind of play was key in the win and he likes to see that out of all his players.
"We've worked a lot on that at practice with all the kids and it showed up tonight, being able to penetrate and find somebody else when you get shut down," the coach said. "We need all of our kids penetrating more, being more aggressive going to the basket."
After scoring 18 first-quarter points, the Chieftains' offense wasn't quite as prolific the next three quarters, but they found ways to get by. Second-chance points, for example, made up a significant chunk of the team's scoring in the third and fourth quarters.
"The second half, we lived off the offensive boards pretty much," Kraft said with a chuckle. "We weren't shooting the ball as well as we were in the first half, so it allowed for a lot more offensive rebounds and we got 'em."
THS scored 10 of its 26 second-half points after grabbing offensive boards — Tavia Brown scored four points, Whitledge had two and Miles had four.
A senior, Miles also converted an offensive putback late in the first half on her way to a 12-point, nine-rebound outing, her most productive of the year. After being replaced in the starting lineup by Brown in Tonganoxie's last two games, Miles said she was out to prove her worth.
"I wanted to get after it today and kind of earn my starting position back," she said after the win. "I just wanted to show coach that even if I couldn't get the ball inside and convert that I could go off the boards."
Kraft said offensive rebounding had been a talking point for him with Miles in the days leading up to the game at Atchison. Specifically, the coach told her she should flash to the ball-side block momentarily, and if nothing was there, she needed to crash the glass from the weak side of the floor.
"In our motion offense, she's been wanting the ball and she gets on the ball side and stays there too much — it doesn't allow Jenny's driving, it doesn't allow Madee and some of those other kids to get to the basket like they did tonight," Kraft said of Miles' former approach.
By heeding Kraft's advice, though, Miles made her biggest impact of the season.
"She cashed in tonight on weak-side rebounds, so I think she's gonna like that a little better," Kraft said.
Whitledge was proud of how Miles played, saying the senior proved she could be a presence.
"She is capable of what she does. She can do that every single game," Whitledge said. "She's stepping up and taking that role as a 6-foot post."
Now that the non-conference portion of the schedule is over, Kraft wants to see THS play like it did at Atchison against Kaw Valley League opponents.
"Our league is tough this year. We're hoping to make every game a dog fight, and if we can make it a defensive battle like we did tonight — play pretty solid defense and make them earn shots — it will give us a chance in those tough games," Kraft said.
With nine KVL games to go, Whitledge said the Chieftains needed to play in a dominating fashion, like they did against AHS.
"We're gonna keep our heads high," she said, "and have our swag and come in like a lion and do what we do best — play Tonganoxie basketball."
Score by quarters
THS 18 12 13 13 — 56
AHS 5 7 10 16 — 38
Tonganoxie scoring
Amanda Holroyd 0-2 0-0 0, Danielle Miller 1-2 1-3 3, Jenny Whitledge 7-19 6-9 20, Tavia Brown 3-9 1-2 7, Hannah Kemp 1-4 0-2 2, Haley Smith 2-7 2-2 6, Emma Stilgenbauer 0-1 1-2 1, Tayler miles 6-10 0-0 12, Madee Walker 2-3 1-1 5.