Poised Chieftains take control in
OT

at Atchison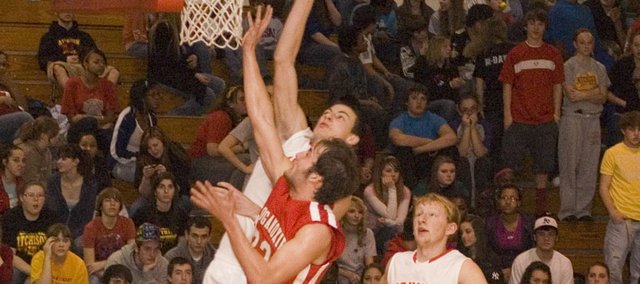 Atchison — On the road, in overtime, after relinquishing an 11-point fourth-quarter lead, a complete implosion was not an option for the Tonganoxie High boys basketball team Friday night in Atchison.
Instead of allowing the pressure to get to them, the Chieftains ratcheted it up, placed it squarely on AHS and escaped with an 85-80 road victory, their first of the season.
Landing the first two punches in overtime helped THS recover from a late-game collapse. Coach Shawn Phillips' team dealt the first blow by getting the ball inside to junior center Dane Erickson, who drew a foul 10 seconds into OT and hit two free throws, giving Tonganoxie a 77-75 advantage.
"It's always good to play from the top side, especially in overtime," the coach said.
As if the quick two points weren't enough, Erickson, who finished with 21 points and seven rebounds, made what Phillips called one of the biggest plays of the game on Atchison's ensuing possession. AHS leading scorer Ce'zanne Burns slashed to the paint, as he had all night, but this time Erickson was in position to draw a charge and Burns fouled out in the first minute of overtime.
"We'd been on our guys all night to step up and take a charge and we were never tough enough to get all the way in front of him," Phillips said. "You could see the air kind of come out of the sails a little bit for Atchison. Some of the kids hung their heads when they saw that he was out. That was big."
There were more big plays to come, though. After AHS tied the game at 77, senior swingman Austin Vickers drained his second 3 of the night with 2:23 left.
Almost two minutes later, the Chieftains (5-6) finally stretched their lead to two possessions thanks to two successful free throws by Brennen Williams with 28 seconds remaining. Williams, a sub who hadn't been in the game since the third quarter, was brought in because of his shooting ability and the move paid off when he gave THS an 84-80 lead.
"We were trying to put our guys in who are the best pure free-throw shooters and he can shoot free throws, he's a really good shooter for us," Phillips said. "That's a tough, pressure situation, but he's a kid whose personality leads to where the moment doesn't affect him. They were pure. There was no joke about them. He made two clutch, clutch free throws and that was big."
The freebies gave Williams his only two points of the night, but his teammates, such as senior guard Dylan Scates, weren't surprised with the outcome. Williams' confidence exuded so much that Scates could tell he would hit them the moment the junior stepped to the stripe.
"That was huge," Scates said. "That pretty much won the game for us."
Though Scates didn't score in OT, his contributions throughout regulation played a significant role in the win, too. The senior substitute came out on fire in the first quarter, scoring 10 points via a fast-break layup, a pull-up jumper and a pair of 3's. His 22-point outing featured another 10-point outburst in the third quarter, when he drained a jumper in the lane, caught a Jeremy Carlisle pass for a transition layup, drove in for another easy hoop, converted a feed from Vickers inside and hit two free throws.
It was easily his best game of the season and Scates said it came because he didn't force things.
"I was just trying to stay loose out there. A lot of my problem had been thinking too much and getting too uptight when I'm out there," he said.
The senior's big night, Phillips said, showcased all his skills.
"Tonight he played like the player he's capable of being," the coach said. "He got to the free-throw line, because he was aggressive going to the rim, he made outside jump shots, he rebounded the basketball, took care of it. He was a difference-maker in the game, and that's what we thought he could be."
Vickers was equally important to the win as he and Scates combined for 38 points off the bench. Between them and Tonganoxie's starting point guard, Carlisle, who had 12 points and five assists, Phillips said the senior trio was irreplaceable.
"All of our seniors played well tonight and that's what we needed on the road in a tough game, especially when it was close and the other team's making shots," Phillips said. "Your seniors should be poised."
None of the seniors ever looked frazzled, even as a double-digit lead went into thin air. The seniors' resolve kept the entire team calm.
Sure, the Chieftains would have preferred an easy victory in regulation, but Scates said earning it in the extra period was important.
"Definitely, we didn't want to be in overtime," he said, "but just the fact that we stepped up and pretty much played how we wanted to, that was pretty big."
Score by quarters
THS 18 13 22 22 10 — 85
AHS 12 16 18 29 5 — 80
Tonganoxie scoring
Dane Erickson 7-12 7-9 21, Ben Williams 0-0 1-4 1, Colby Yates 1-2 0-2 2, Jeremy Carlisle 3-9 6-6 12, Dylan Jacobs 4-8 1-2 9, Dylan Scates 9-15 2-4 22, Austin Vickers 6-7 2-3 16, Brennen Williams 0-0 2-2 2.