5 Questions: Stay hydrated
Chapped lips, dry skin signs of dehydration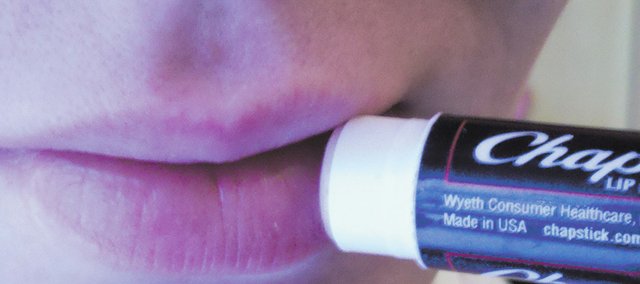 Mary Knapp, state climatologist based with Kansas State University Research and Extension, offers advice about dehydration in the winter months.
Q: Isn't dehydration usually associated with summer heat?
A: Most of us know dehydration can be life-threatening in summer. But we may not realize it can have year-round impacts on health, comfort and even thinking. Evidently, many of us just don't see the cold-weather results in terms of our body's being water-deprived.
Q: What are the signs of winter dehydration?
A: In winter, the first symptoms of dehydration are usually dry, itchy and sometimes painful skin conditions. Cracked lips and chapped skin can be signs that people are drying out internally. However, cold-weather dehydration also can cause a dry, hacking cough. It leads to shocks of static electricity.
Q: Are there health effects to dehydration?
A: It reduces people's ability to fight off colds, flu, skin infections and a host of other seasonal ills.
Q: What contributes to winter dehydration?
A: Both outdoor and indoor conditions promote winter's moisture-sapping impacts. Outdoors, a 75 percent relative humidity reading can make you feel like you're having to swim through the air in summer. Yet it can feel normal to dry during winter, especially when combined with a cold wind. Indoors, the air's already-low humidity plummets, simply because the furnace raises the air's temperature.
Q: What's the answer?
A: Humans — and wood furniture — may suffer unless someone keeps them supplied with moisturizer or a humidifier. But people also can drink lots of water, despite the fact that sweating isn't usually a winter issue.