Aunt Norie's Sewing Room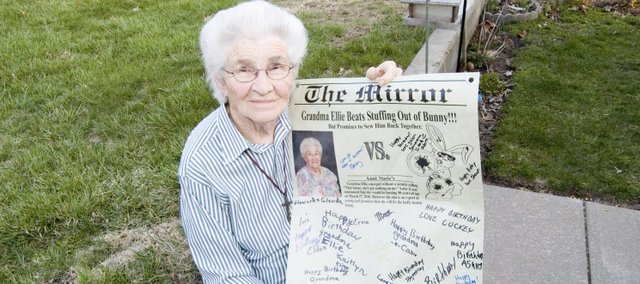 A friend said, "My grandma fixed my hem, and I can't see a single stitch", "she said, she 'blind stitched' it," then asked me to explain.
That's the stitch my sewing teacher was teaching us (I wrote about it recently) with black thread on a white hem, or white thread on a black hem.
I know you've all encountered that hem that so quickly can just pull out like opening a zipper, the machine made, 'over cast' sort of stitch. Not often but if that one end of the thread, as it finished the hem should ever get loose, and it does. If you will look closely you will see those stitches do not go completely through the fabric; they just seem to actually catch on almost nothing at all. However, they do hold the hem so well.
Now for that hand made blind stitch. Get yourself in a very good light, coming over your shoulder and right on your work.
If you are working on a woven fabric, just go under that one fiber that crosses over the bottom one as the fabric was woven, then straight back up into that folded turn under of the hem, back into the same needle hole you just came out of, let your needle slide an eighth to one half inch, inside of that turn under of the hems edge, coming out of the folded edge, down under another fiber, back up into the folded edge, and repeat.
The above totally hides your thread from either side (a true blind stitch). I use the same idea, however I don't try to hide the thread on the wrong side of the hem, just catch a thread of the fiber. So many stitches so close together is the answer since there is no actual stress, as in a side seam, or the crotch seam, for instance.
When hemming kn,its just catch the fabric, in the same way, you can see the actual threads of fiber. On a knit hem I use a cross stitch which actually lets the hem stretch.
Pass on those hugs now and God bless.
Aunt Norie, P.O. Box 265, Tonganoxie 66086; auntnorie@att.net.