Feasting on Kansas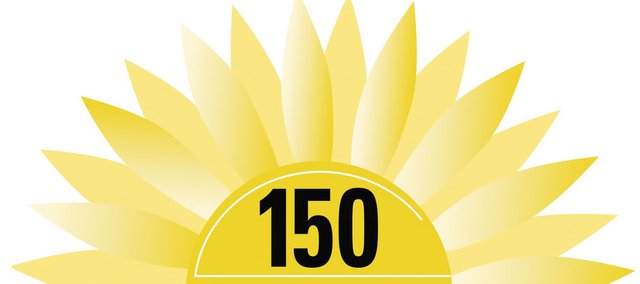 For two days last week, Tonganoxie feasted on Kansas.
The celebration of the state's sesquicentennial started Friday, in Kathy Harrell's eighth-grade American history classes.
To celebrate the state's 150th birthday one day early, the Tonganoxie Middle School students enjoyed dessert carved from Kansas-shaped cake, wrote 16 facts about the state gleaned from the first half of a Kansas Public Radio podcast on Kansas A to Z, listened to "Dust in the Wind" by the 1970s rock group Kansas and played a game of Kansas bingo.
The cake tied to a tradition from her childhood, Harrell said.
"I grew up in a household where with my mother we made a Kansas Day cake every year," she said. "So I grew up celebrating Kansas Day a lot. That's how I got the idea of adding the cake for my students because I realized most of them weren't aware of Kansas Day."
Harrell is passing on another tradition, too. Kansas Day grew from the lessons a Paola history teacher started teaching to his students and described to other teachers in 1881.
"I'm very proud to be a part of that," Harrell said. "I enjoy teaching Kansas history and try to do something special every year to teach them we live in a special state and not a boring one."
The eighth-grade American history class has one quarter devoted to Kansas history, Harrell said. The difference this year is the state's sesquicentennial, which has made the students more interested, even if the state's budget crunch made it a low-key celebration statewide.
"It's also the 150th anniversary of the start of the Civil War, so it's an exciting year to teach history," she said.
Student Madison Tucker said the sesquicentennial made Kansas history more interesting, she said, listing things she learned Friday.
"I learned (county music star) Martina McBride came from here and that the flyswatter was invented here," she said. "Helium was first found here, and (jazz great) Charlie Parker was from here."
On Saturday, the celebration moved the Tonganoxie Community Historical Site, where It turns out many people with roots across the country were on hand Saturday to help celebrate the Sunflower State's birthday at the Tonganoxie Community Historical Society's Kansas Sesquicentennial Birthday Party.
Master of ceremonies Jim Stuke asked how many of the nearly 90 in attendance were born out-of-state. He counted about 20-25 and heard people shout out where they were born: New York, Iowa, Missouri, Nebraska, Ohio, Colorado, Tennessee, Oregon, Michigan and New Jersey.
"We were just really pleased with how the people showed up for that day and the celebration we had," Stuke said. "It just seemed like everyone enjoyed themselves and had a good time. We were just impressed with the number of people who chose to participate."
Visitors heard from Mayor Jason Ward about some history of Tonganoxie, Jenny Alden regarding Kansas history and Kathy Peak in character as Mollie Myers, former owner and operator of the Myers Hotel. She took on the persona of Myers being interviewed by a "reporter" from a large newspaper.
Also during the program, Laurie Walters dedicated a banner that 2010 Tonganoxie High School graduate KaCee Fischer created for the site. The banner is to be placed on the north side of the barn so that drivers can view the banner throughout the year from both Kansas Highway 16 and U.S. Highway 24-40.
The banner, with a sunflower rising from behind two green hills, had significant symbolism, according to Walters. She said the sunflower rising showed the history that has occurred but it still had not fully risen into the sky, showing that there was still important "history to come."
Patty Haag spoke about the upcoming Kansas Sampler Festival, which take place in May in Leavenworth.
The event finished with the singing of "Happy Birthday" and "Home on the Range" with pianist Dolores Finch and Stuke leading the group in three cheers for Kansas.
"Everyone seemed to have a good time," Stuke said. "We as a society, we were just thrilled everyone — members and guests — were there."
Shawn Linenberger contributed to this story.