Linenberger: Events well-attended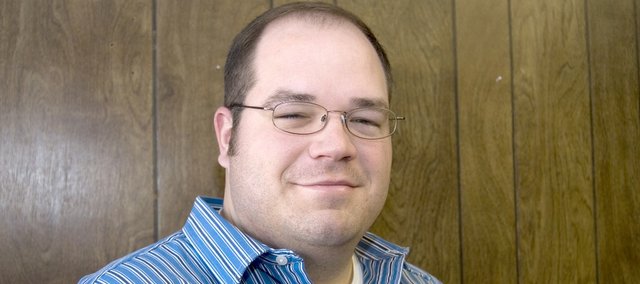 A military band and a 150th birthday party — not too shabby of a combination.
Though venturing out for entertainment right now during the current winter weather — Blizzard of Oz, Snowpocalypse, Snotorious B.I.G. and Snowmageddon are some of the popular names — really isn't an option, Mother Nature cooperated Thursday and Saturday for two great events.
On Thursday, the Winds of Freedom band, which is part of the larger Heart of America band based out of Offutt Air Force base near Omaha, Neb., performed before about 160 people at the Tonganoxie Performing Arts Center on the Tonganoxie High School campus.
The small but mighty woodwind ensemble also had percussion and a little electric guitar.
The band seemed to be well-received by those in attendance. A wide array of music, including some Latin and a Sting song, was played at the local auditorium.
The night finished off with an African song and a compilation of marches paying tribute to each branch of the Armed Forces. Audience participation made for a great evening, too, including recognition of those who have served. Those in the military were recognized during that rousing compilation of each military branch's well-known march, such as "Anchors Aweigh" for the Navy.
The band made its first Tonganoxie appearance in 2008. There was a considerable increase in attendance from that inaugural event. The Mirror sponsored both performances, this time joining with the Basehor Sentinel and Bonner Springs Chieftain. This year's event also couldn't have been possible without with work of Tonganoxie High School, particularly THS drama instructor Steve Harrell, who made sure the band had all it needed with stage and lighting, and THS music director Charles Van Middlesworth, who assisted with getting the word out among his musicians and others in the community.
It's hoped that the band will again return to Tonganoxie and folks once again will come out in even more droves to hear a fine performance from some talented men and women serving in the Air Force.
On Saturday, we switched gears to honor Kansas on its 150th birthday. This year's Kansas Day festivities, which were additionally special with it being the sesquicentennial, took place at the Tonganoxie Community Historic Site.
Again, there was a great turnout, nearly 90, for the event. The community room at the Fairchild-Knox Barn was filled with many people on hand to take in history lessons on Tonganoxie, as well as on Kansas and a local legend in Mollie Myers.
The singing of "Home on the Range" and "Happy Birthday" was simply icing on the Kansas Day cake that was served after the event.
Many communities have both an auditorium and a historical society, but I don't think it's a stretch to believe that not many have the combination of amenities Tonganoxie possesses in both areas.
The performing arts center is a treasure for our community and certainly can be showcased when we attract groups such as the Winds of Freedom that complement our annual schedule of local musical and theatrical performances.
As for the historic site, so many structures steeped in history combine to provide for a beautiful campus with those wonderful rolling hills serving as a backdrop.
These events serve as reminders that we should take advantage of the activities and performances both have to offer.
And with that, I encourage you to visit both as often as you can.
That is, just as soon as we click our boots together three times and dig ourselves out of the Blizzard of Oz.