NYC

, Denver improv groups to perform at festival
Roving Imp Theater and Coffee House owner John Robison wants to shine the spotlight on improvisational comedy groups that don't normally get a lot of festival love.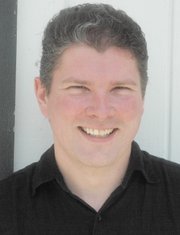 That's why he'll be playing host to a Tiny Group Festival Feb. 10-13.
"The thing that's special about this particular festival is that all of the groups have a maximum of three members, which is fairly unusual for a festival," Robison said. "Small groups get the short end of the stick sometimes, because there are only two people and groups with eight people can attract a lot more audience."
The festival will feature 15 groups, ranging from one to three members, from the Kansas City metro area, Denver and even New York City. Five of the groups, Robison said, will be from Bonner Springs, including a group called Lavon and Mavis, comprised of Chante Keller and Julie Robison, who is John Robison's sister.
"It's two young women that do a two-person show and … they're very patient," John Robison said. "They listen to each other as if they're hawks looking for prey and they are really, really funny."
Though, as Robison said, most improv comedy festival organizers are hesitant to stage a festival for smaller groups, it is actually those smaller groups that represent performers at the top of their game. Performers in larger groups, he said, don't have to work as hard on stage because there are several other people performing with them and backing them up.
"There's a certain amount of slacking off that happens," Robison said of larger improv groups. "But with a two-person group, you have to be an expert at your craft because it's just you and one other person, so if you're not doing your job, the whole show fails terribly."
The first night of the festival will feature only groups who have never performed together publicly before, and then on Friday night, Robison says he's going to mix things up with an event called the MixUp Duos. Performers will put their names in a hat and then two or three names will be drawn at random. Those performers chosen will then have to perform a set together.
"It's a lot of fun not only for the performers to play with somebody you don't normally get a chance to (perform with), but also for the audience because each two-person set has a really unique chemistry, and getting to see that chemistry is really something else," Robison said.
The following improvisational comedy workshops will also be offered throughout the weekend:
• 3 p.m. to 5:30 p.m. Friday: Scenic Blitzkrieg, taught by Robison
• 11:45 a.m. to 2:15 p.m. Saturday: Small Group Workout, taught by Rick Andrews of the Magnet Theater in New York City
• 2:30 p.m. to 5 p.m. Saturday: Listen (to Yourself!), taught by Andrews
• 11:45 a.m. to 2:15 p.m. Sunday: Real Improv, Real Characters, taught by Jennifer Dunne of the Magnet Theater
• 2:30 p.m. to 5 p.m. Sunday: Let's Not Fight, taught by Tim Marks of the Kansas City-based improv group, Improv-Abilities
Workshops are $35 for one, $40 for two, $50 for four and $55 for all five.
The festival will kick off at 7 p.m. Thursday, Feb. 10, and continue with two shows a night at 7 p.m. and 9 p.m. Friday and Saturday, Feb. 11 and 12.
Shows are $10 apiece, with the per-show cost going down with multiple show ticket purchases.
For more information, contact the Roving Imp, 115 Oak St., at (913) 441-2309.