Wolken lands Butler
CC

softball scholarship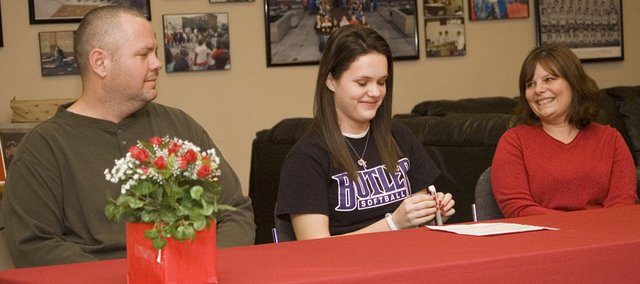 The last week in January was a big one for Tonganoxie High senior Kaitlyn Wolken.
First, she had her 18th birthday. Then, she signed to play college softball, a goal she had dreamed about since her pre-teen years.
Wolken signed with Butler Community College at a ceremony on Jan. 28 and her mother, Jen, said Kaitlyn grew up loving softball. As soon as Kaitlyn found out from her parents that college softball teams existed, she wanted to be on one.
Next year, Wolken will become a member of the Butler Grizzlies.
Playing college softball in El Dorado will mark the completion of a long journey for Wolken, who was introduced to the sport by her father, Rob, who played baseball.
She had tried out soccer in her youth, but it didn't stick. It was different with softball.
"I ended up playing competitive when I was really young and I just fell in love with it right off the bat," Wolken recalled, saying she started playing for traveling teams as an 11-year-old.
Along with the competitive teams, Wolken attended camps and met college coaches as she got older. Things began intensifying when she reached the 16-and-younger ranks.
"That's when I really started working at it," she said.
Work ethic has been instrumental in Wolken's development as a player. Her approach is defined by it and gives her a certain attitude on the diamond.
"I'm competitive and I think that shows," Wolken said.
"I've always wanted to do the best that I possibly can at every moment."
That edge, she added, got her to this point.
"Softball's where I want to be at," Wolken said. "If I do something good, it makes me feel good and I know I'm going to get rewarded from it."
A reward led Wolken to choose Butler. Earning a softball scholarship had been a big-time personal goal.
"The number one thing is getting my education paid for and I'm not going to have to go out with a lot of debt," she said.
And just because she has reached one softball goal doesn't mean she is done working at attaining newer, better rewards, such as moving on to a four-year program.
"I've really been driven to the fact that I always want to get better at it," Wolken said. "I'm not going to settle for where I'm at now."
Even at 18, she still has the same passion for softball that drove her as a child.
"I loved it when I was younger," Wolken said, "and it's just grown since then."