Erickson perfect from floor in
THS

victory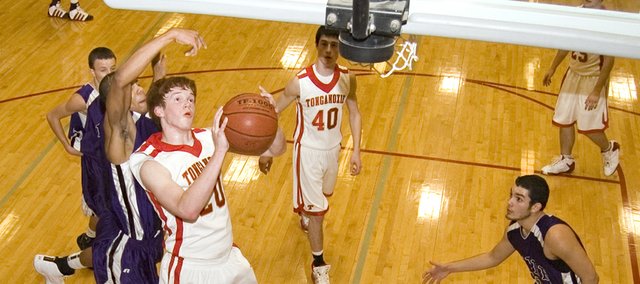 Led by a virtuoso outing from junior center Dane Erickson, the Tonganoxie High boys basketball team defeated Piper, 70-66, Friday night for its first Kaw Valley League win of the season.
The Chieftains' 6-foot-5 pivot succeeded on all 13 of his field-goal attempts and went 4-for-5 from the free-throw line to finish with 30 points in a tight, much-needed victory.
THS coach Shawn Phillips was impressed with Erickson's stat line and didn't realize until after the win that the junior was perfect from the floor. Phillips said Tonganoxie (6-6 overall, 1-5 KVL) wanted to exploit the Pirates' lack of interior size by feeding the big man.
"When we were patient, he got layup opportunities," the coach said. "He's good at finishing around the rim and he finished every single one of them. That's a really good night. I don't know if I've ever had a kid shoot that many shots and make them all."
The Chieftains needed each and every one of Erickson's buckets, because PHS (3-10, 1-6) made a late push in the fourth quarter, as Tonganoxie struggled at the free-throw line, hitting just eight of 16 attempts.
Down by as many as seven points in the fourth, Piper cut its deficit to two with just 16 seconds left, when Bryan Rezin drained a 3-pointer.
The Pirates fouled THS senior Austin Vickers with nine seconds to go and he missed both of his free throws.
However, the swingman made up for his misfires with a backcourt steal as PHS tried to advance the ball for a potential tying or winning shot.
"That steal was big," Phillips said. "They were feeling like they had a great opportunity to come take the tie or take the lead."
Vickers was fouled with one second left and knocked down both freebies the second time around.
Senior Dylan Scates scored 13 points off the bench for Tonganoxie and though senior point guard Jeremy Carlisle struggled from the field, he dished out eight assists and pulled down seven rebounds.
Junior guard Colby Yates had seven points, four rebounds and three assists.
At 5:30 p.m. on Saturday, the Chieftains will play host to Basehor-Linwood.
Score by quarters
PHS 17 11 16 22 — 66
THS 14 18 19 19 — 70
Tonganoxie scoring
Dane Erickson 13-13 4-5 30, Ben Williams 0-0 0-0 0, Colby Yates 2-3 3-4 7, Jeremy Carlisle 2-10 1-2 5, Dylan Jacobs 3-5 2-4 9, Dylan Scates 4-13 4-7 13, Austin Vickers 2-3 2-4 6, Brennen Williams 0-1 0-0 0.