Holroyd carries Tonganoxie girls to win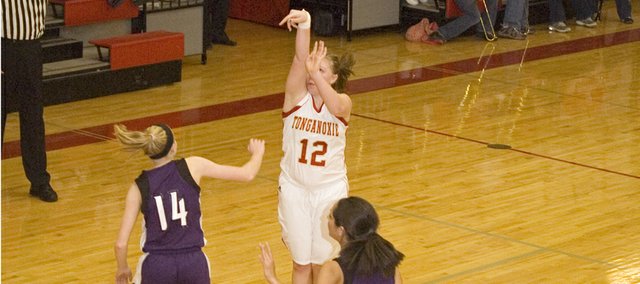 This week's winter storm kept the Tonganoxie High girls basketball team away from the court until a Thursday practice, but the break didn't seem to affect junior guard Amanda Holroyd.
The Chieftains gunner went for 20 points Friday in a 49-31 home win over Piper.
Holroyd caught fire in the second quarter, when her eight points keyed a 12-3 THS run.
She knocked down four 3-pointers in the victory, which didn't really surprise her coach, Randy Kraft.
"That's Amanda. When she's on, she's on fire and she was shooting the ball well tonight," he said. "That carried over into her defense or because she was playing defense well, she caught fire on offense. I thought both ends of the floor she played a really fine game."
Holroyd's four steals and three rebounds helped Tonganoxie (5-7 overall, 2-4 Kaw Valley League), but her scoring punch made a huge difference against Piper (4-8, 1-5), because no one else on the team made more than three field goals.
"It was pretty spread around," Kraft noted of the rest of the offensive production.
Sophomore Jenny Whitledge scored seven points for the Chieftains. Haley Smith chipped in six and both Hannah Kemp and Danielle Miller finished with five.
The THS defense stymied the Pirates throughout the first half, holding Piper to just seven points in the first 16 minutes.
Kraft said his team's defensive effort throughout led to the 18-point victory.
"Our defense was pretty good most of the game," he said.
Tonganoxie returns to the court at 4 p.m. Saturday for a home game against Basehor-Linwood.
Score by quarters
PHS 7 15 12 15 — 49
THS 2 5 10 14 — 31
Tonganoxie scoring
Amanda Holroyd 7-11 2-4 20, Danielle Miller 2-3 1-2 5, Jenny Whitledge 3-5 1-2 7, Tavia Brown 1-1 0-0 2, Hannah Kemp 2-4 1-4 5, Tayler Miles 0-0 0-0 0, Haley Smith 2-8 2-2 6, Madee Walker 1-7 0-0 2, Emma Stilgenbauer 0-2 2-2 2.