THS

catcher Wagner headed to

NCMC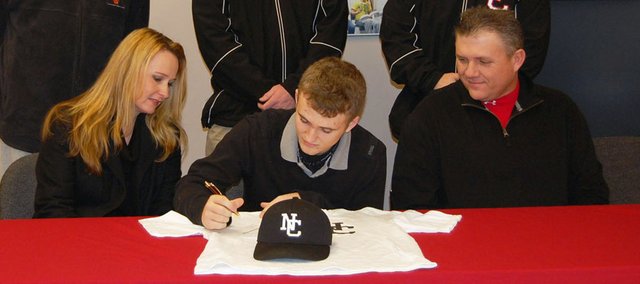 Sometimes perfect opportunities come out of nowhere. When one such occasion fell Jeremy Wagner's way, he was ready to snag it with his catcher's mitt.
Prompted last year by his father, Gary, who had come across what amounted to a catcher wanted ad, Jeremy tried out for the Midwest Orioles College Prospect baseball team.
Wagner, now a Tonganoxie High senior, had never heard of the club and had no idea how the tryout would impact his future. Before long he was playing for the Orioles and, as a member of that team, impressed the coaches at North Central Missouri College enough that he ended up signing a letter of intent on Jan. 21 to join the NJCAA Division I program.
Tom Urquhart, a pro baseball scout who once pitched in the minor leagues, runs both the college prospect team and his own school of baseball, which operates out of Shawnee Mission. Urquhart had baseball clout, which appealed to Wagner, because he was looking for a surefire way to land with a college program.
"When I tried out, they liked me," Wagner recalled.
The Chieftains catcher joined the Orioles last summer and played in tournaments throughout the region, including ones at the University of Missouri and Kansas State University.
In the fall, the showcase team played in front of more than 20 college programs in five states. It so happened the first stop, North Central Missouri College, in Trenton, Mo., was the one for Wagner.
Wagner felt comfortable with NCMC and Trenton almost immediately.
"It's like Tonganoxie but a little bit bigger, it's got that small-time feel," he said.
Despite the early inkling that he would like to play for the Pirates, Wagner knew he shouldn't rush to a decision.
"I liked it up there the first day and felt pretty good about it but we still had a lot of places to play," he said, referring to the Orioles' three-month fall season.
By the time all the traveling and showcases were through, Wagner said six or seven schools showed interest in him but he chose NCMC because its coach, Donnie Hillerman, seemed "genuine" and cared about his players.
That put the Pirates over the top for Wagner, who said he will split time as a catcher and infielder for North Central.
Taking the junior college route, Wagner added, should help him improve, citing the Pirates' weight program and competitive schedule, which features top NJCAA Div. I programs from the region.
Wagner hopes to move on to a four-year baseball program when he's done at NCMC, and said he was happy his sacrifices, such as not playing football in the fall and traveling all over the place with the prospect squad, paid off
Before his dad approached him about trying out for the Orioles, Wagner figured he would have to walk on somewhere or maybe just give up baseball and focus solely on academics as an undergrad.
"Last year I didn't know if I was gonna go anywhere and when I found out about this team I didn't really want to try out," he admitted.
Happy that he went through it all, Wagner said his baseball journeys this past year made for a meaningful signing day.
"It felt like I accomplished a lot," he said. "Everything I've worked for and everything I've done finally felt like it was worth something."