Turnovers costly for Tonganoxie girls in 'L' to
BLHS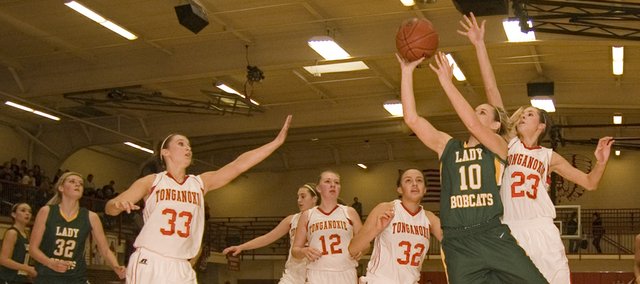 With more turnovers than points Saturday against Basehor-Linwood High, the Tonganoxie girls basketball team squandered an eight-point halftime lead at home and lost, 35-30.
Passes flew out of bounds, dribbles were lost and the Chieftains turned the ball over 31 times.
The mistakes severely cost THS (5-8 overall, 2-5 Kaw Valley League) in the second half, when the home team made just three field goals and the Bobcats (9-4, 6-1) limited Tonganoxie to 10 points.
BLHS trailed for the first 27 minutes of the game. It wasn't until Shelby Equels converted a fast-break layup with 4:07 left that the Bobcats finally managed a tie.
Thirteen seconds later, Jamie Johnson scored a transition layup to put Basehor ahead, 29-27, and the Bobcats maintained their lead throughout the final few minutes by shooting 6-for-9 from the foul line — Megan Bergstrom hit three free throws, Johnson converted two attempts and Courtney Poe hit one.
Tonganoxie, meanwhile, was mired in a fourth-quarter field goal drought that lasted nearly six minutes.
THS sophomore Madee Walker stole the ball and scored on a lay-in with 5:58 to play but the Chieftains didn't convert another basket until freshman Emma Stilgenbauer scored on an offensive rebound with nine seconds left.
That stretch of basket-less play, however, was trumped by an even longer drought, which went on for more than eight minutes, earlier in the second half.
Danielle Miller scored inside less than two minutes into the third quarter, giving Tonganoxie a 22-14 lead, but the next THS bucket was Walker's fourth-quarter layup.
Though THS kept Bergstrom in check for the first 24 minutes, she had six fourth-quarter points and led all scorers with 10.
The Bobcats play Tuesday at Bishop Ward, in Kansas City, Kan.
The Chieftains play Tuesday at Mill Valley, in Shawnee.
Score by quarters
BLHS 2 10 7 16 — 35
THS 8 12 3 7 — 30
Basehor-Linwood scoring
Shelby Equels 3 0-2 6, Macy Sanders 2 1-4 5, Courtney Poe 2 1-3 5, Megan Bergstrom 2 6-8 10, Cara McCarty 0 0-0 0, Jamie Johnson 3 3-4 9.
Tonganoxie scoring
Amanda Holroyd 1 0-0 3, Hannah Kemp 2 2-4 6, Jenny Whitledge 2 3-5 7, Danielle Miller 2 0-0 4, Tavia Brown 0 0-0 0, Emma Stilgenbauer 2 1-4 5, Tayler Miles 1 0-0 2, Madee Walker 1 1-2 3.