Forecasters: More snow on the way Tuesday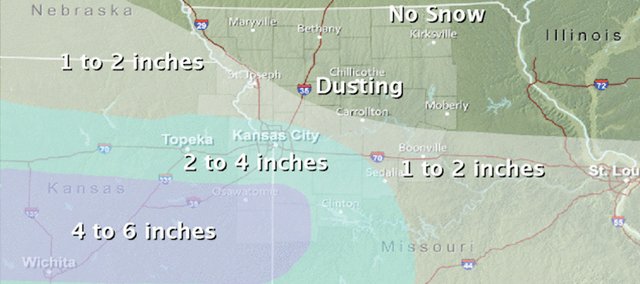 Just in case you believed the groundhog's prediction last week that winter was about to be finished, think again.
Forecasters say another snowstorm is on the way to the area with up to another 5 inches possible by midweek.
The National Weather Service in Topeka has issued a winter weather advisory for several northeast Kansas counties, including Douglas County, in effect from 6 a.m. Tuesday to 6 a.m. Wednesday.
Accumulating snowfall is expected to begin Tuesday morning and continue into the early morning hours on Wednesday.
Total snow accumulations of 2 to 5 inches is expected. Some locally higher amounts are possible in east central Kansas. Winds are expected to be out of the northeast at 10 to 20 mph with gusts to 22 mph. The snow will reduce visibilities and accumulate on area roadways, making them slick and hazardous.
Counties included in the advisory are Riley, Pottawatomie, Geary, Morris, Wabaunsee, Shawnee, Douglas, Lyon, Osage, Franklin, Coffey and Anderson.
Although not included in the advisory, the Kansas City metro area also is expected to get additional snowfall from the storm.