Tonganoxie girls doomed by 31 turnovers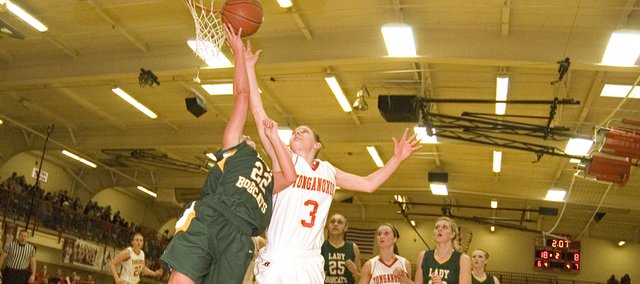 Tonganoxie High girls basketball coach Randy Kraft would have preferred to talk at length about his team's defense and how it helped the Chieftains beat Basehor-Linwood on Saturday.
He couldn't, though. Tonganoxie's 31 turnovers at home against the Bobcats prevented that line of discussion and allowed BLHS to mount a second-half comeback and win, 35-30.
There wasn't much mystery surrounding how the Chieftains managed to relinquish an eight-point second-half lead in a low-scoring game.
"It's pretty simple. I thought we played really well defensively," Kraft said, noting his team held its own on the boards. "But you turn the ball over that many times, you're not gonna win games."
Though Tonganoxie's turnover issues began in the first half, with eight giveaways apiece in the first and second quarters, its defense was on lockdown. Basehor scored just two points in the irst quarter and trailed 20-12 at the half.
However, the Chieftains (5-8 overall, 2-5 Kaw Valley League) got even more careless in the third quarter, turning it over 10 times in eight minutes. That didn't help the offense. The only THS points in the quarter came on an interior score from Danielle Miller less than two minutes in and an Emma Stilgenbauer free throw with just more than a minute remaining in the third.
Amazingly, Tonganoxie still held a four-point lead on the Bobcats (9-4, 6-1) entering the fourth quarter because of the team's defense. Kraft said THS must capitalize offensively when it is limiting its opponent on the other end of the floor.
"We've got to quit shooting ourselves in the foot," Kraft said. "We've got to quit beating ourselves, because Basehor didn't beat us today and a lot of teams haven't beat us this year, we've just beat ourselves.
"I'm not sure what the answer to that is. It's a mental thing. They've got to start believing in themselves. I think today they were playing not to lose rather than playing to win once they got that lead."
THS sophomore Jenny Whitledge, who led the team with seven points, said the Chieftains could have defeated BLHS if it wasn't for the high turnover count. She said their play was frustrating for everyone involved and they responded incorrectly when things weren't going their way by hanging their heads and not getting back on defense.
The worst part of the loss, Whitledge said, was giving up a second-half lead.
"If we would've come out in the third or fourth quarter like we did in the first half, we would've won that game by a landslide," she said.
Instead, Tonganoxie scored three points in the third and seven in the fourth, while making just three field goals and four free throws.
"We weren't executing," Whitledge said. "We didn't come out wanting to win."
Bad starts to the second half, she added, have been a pattern this season — "Then we come out in the fourth quarter and we have to play catch-up," Whitledge said.
Turnovers, clearly, were the root of the team's problems, and Kraft said the reason behind the mistakes lies in the players' heads.
"It's all mental," Kraft said. "Sometimes we get in a little bit of a panic mode with the ball and think we've got to get rid of it when we don't. We travel or throw it away. We don't see the defense well, because our vision's so tunneled that we're not seeing the whole floor. It's all mental."
Kraft said turnovers have been a recurring issue, but BLHS made Tonganoxie pay for them.
"We've done it all year long and we get away with it against teams that are not quite as good," the coach said. "We face a pretty good team and barely get beat here today and turn it over 31 times to their 15. That's 16 more opportunities they had to shoot the ball."
Despite all their problems, the Chieftains led throughout the first 27-plus minutes of the game. An 11-1 run by the Bobcats in the final five minutes led to the potentially demoralizing loss.
Whitledge said her team can't afford to lose its confidence.
"We've got to pick up our heads and be mentally strong and not beat ourselves," she said. "Beating ourselves is always what makes them (opponents) win."
According to Kraft, his team would be better off it avoided going into "panic mode," as he called it.
"We've just got to mature as a team and grow up and understand how to finish games off," the coach said.
Turnovers, Kraft added, are the one facet where the Chieftains haven't shown improvement.
"That's a hard one to remedy," he said, "because most of them are not steals. Most of them are just throwing the ball away or traveling."
THS travels Tuesday to play at Mill Valley, in Shawnee.
Score by quarters
BLHS 2 10 7 16 — 35
THS 8 12 3 7 — 30
Tonganoxie scoring
Amanda Holroyd 1 0-0 3, Hannah Kemp 2 2-4 6, Jenny Whitledge 2 3-5 7, Danielle Miller 2 0-0 4, Tavia Brown 0 0-0 0, Emma Stilgenbauer 2 1-4 5, Tayler Miles 1 0-0 2, Madee Walker 1 1-2 3.