Too much to handle
Bobcats' size, depth leads to blowout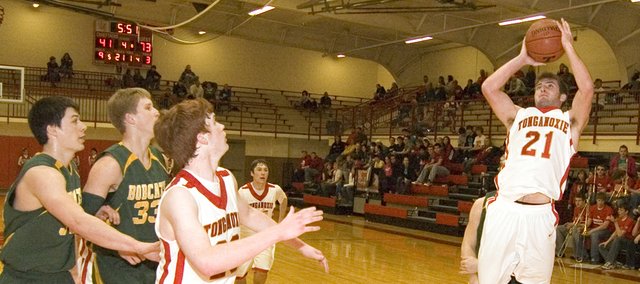 Just when things were beginning to look up for the Tonganoxie High boys basketball team — riding a four-game winning streak that got the Chieftains to .500 — into town came Basehor-Linwood, ranked No. 1 in Class 4A by the Kansas Basketball Coaches Association.
The Bobcats left as buzzkill artists Saturday for THS, soundly thumping the home team, 76-51.
Basehor (12-1 overall, 6-1 Kaw Valley League) outscored Tonganoxie at will, primarily by out-sizing the Chieftains. Five BLHS rotation players, listed at 6-foot-3 or taller, were bigger than everyone on the THS roster except for junior center Dane Erickson, who scored 15 points.
The Bobcats used their extraordinary height advantage to score 28 points in the paint and make numerous trips to the free-throw line, where they went 23-for-36.
Basehor-Linwood won the 4A state championship in 2009 and THS coach Shawn Phillips said this year's Bobcats might be even better in at least one aspect.
"I think they're deeper than they were two years ago, and their size, they're bigger than they were two years ago," Phillips said, "so you've got to catch them on a night where they don't play their best game."
Saturday was not one of those nights. Colin Murphy, Basehor's 6-foot-6 junior swingman, scored 28 points in just three quarters of play (the game was out of hand by the fourth) and nearly was unstoppable.
Tonganoxie senior point guard Jeremy Carlisle, 5-foot-9, said Basehor's size provided a challenge that his team didn't answer.
"Even going into games where we're pretty evenly matched, we've got to work hard and going into games where everyone's above six foot except for one guy that they play is pretty challenging," Carlisle said after leading his team with 16 points. "We've got to work extra-hard, box out harder, play harder, rebound harder — everything harder — and we just didn't do that.
"We came out and tried to play like we had been and we can't do that against a team of this caliber. Basehor's an extremely good high school team, and we've been playing teams that we could go out and play average and still compete with them."
Phillips said it was difficult for his team to match up with the Bobcats, who possess size at every position. Plus, their skills and depth allow them to succeed, even if one player is off.
"It's hard to go out and just beat them," Phillips said. "They've got lots of weapons."
The Chieftains learned that for the second time this season — they opened their schedule with a 32-pont loss at BLHS — and never were close on Saturday. The Bobcats started the game with a 13-2 run, led by 15 at the half and went on runs of 10-2 and 8-2 in the third quarter.
Looking ahead
The weekend wasn't a total loss for Tonganoxie (6-7, 1-6), though. THS nabbed its first KVL win of the season with a Friday home win against Piper.
Carlisle said the Chieftains didn't want to be blown out by Basehor, but they were looking forward to getting some more league wins this week.
"It's nice to get our first one," the senior said. "We know next week we've got three very winnable games, all in league."
THS plays Tuesday at Mill Valley and has road games on Thursday (at Turner) and Friday (at Bishop Ward), as well.
Phillips said the biggest challenge this week will be playing three road games in four days — the Turner game is a makeup date from Jan. 11.
"Road wins are tough to come by, no matter who you're playing," Phillips said. "I think we can win those games if we play well."
With sub-state seeding in mind, Carlisle said Tonganoxie needs to go earn some victories.
"We know we can get a three-game win streak, continue on and win out the rest of the season and still have a double-digit win season for the third consecutive season, which hasn't happened in Tongie in forever," he said.
As of Tuesday, THS was tied with Jeff West for the No. 4 seed in its sub-state. Phillips said claiming that No. 4 position was important for his team.
"We definitely want to continue to rack up some wins, because getting to that four spot would be important," the coach said. "We definitely want to try to play on our home court (in the first round)."
Basehor-Linwood, Sumner Academy (12-2) and Bonner Springs (9-2) hold the top three spots in Tonganoxie's sub-state.
Score by quarters
BLHS 18 23 27 8 — 76
THS 8 18 13 12 — 51
Tonganoxie scoring
Dane Erickson 4 7-7 15, Ben Williams 1 1-2 3, Colby Yates 1 4-6 6, Jeremy Carlisle 4 7-9 16, Dylan Jacobs 0 0-0 0, Dylan Scates 1 2-2 4, Brady Waldeier 2 3-4 7.