Leavenworth County Humane Society looks back, ahead at annual meeting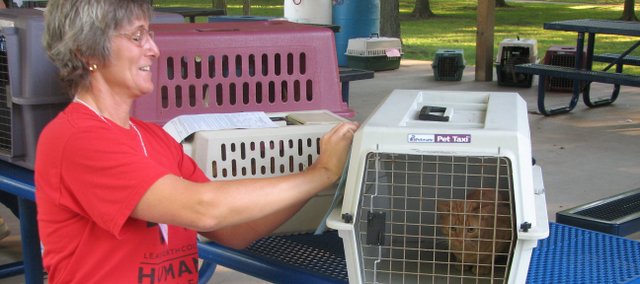 The Leavenworth County Humane Society this week totaled up some of its accomplishments in its less than two years of existence, and it looked at where it can go next.
At the organization's annual meeting at Basehor Community Library on Tuesday, LCHS president Crystal Blackdeer said the society has helped with the adoption of 35 pets in Leavenworth County since it began in June 2009.
LCHS has also helped to spay or neuter 444 pets, Blackdeer said, through its monthly spay/neuter transports. She said that had prevented the birth of an estimated 2,270 more puppies and kittens.
The transports, which move around the county to a different city each month, allow residents to bring in pets to be taken to No More Homeless Pets KC in Merriam to be spayed or neutered, then returned the next day.
Blackdeer said that in 2011 the society had also begun offering vaccinations and microchip implants included in the price of the spaying or neutering.
"To us, vaccinations and microchipping are part of being a responsible pet owner," she said.
One current mission for LCHS, Blackdeer said, was to find a building to use as public headquarters, preferably somewhere in the southern part of the county. The society is currently based at Blackdeer's home.
"We're looking for a place," she said. "It doesn't have to be much."
LCHS last year unveiled plans for a new headquarters and shelter estimated to cost about $3.27 million, to be built several years from now with the help of a fundraising campaign. But for now, Blackdeer said, the society just needs somewhere that can be open to the public, which may allow it to qualify for Combined Federal Campaign and United Way funding.
Blackdeer said the society also planned to participate in public events in the county this year, including Basehor's Dairy Days festival in June, to make itself known to potential volunteers or donors.
"My experience with people in Leavenworth County is most of them really do care, and they want to do something," she said.
Blackdeer said the society had many opportunities for volunteers, including placing brochures around the county, maintaining donation jars, planning fundraising events and helping with the society's newsletter.
Anyone interested in volunteering, donating or becoming a member of LCHS can go to the society's website at lchsinc.org, send e-mail to LvnCoHS@live.com or call (913) 728-2881.