Spring to arrive early, Tonganoxie Phil prognosticates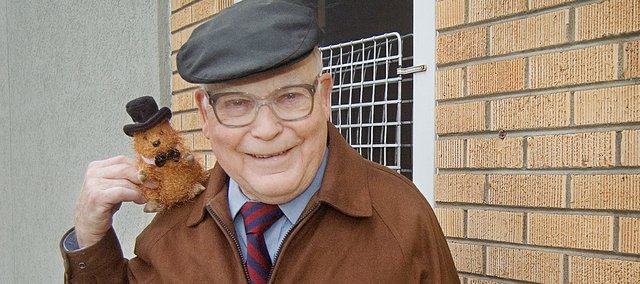 A local Phil has given his prediction after Groundhog Day: An early spring is coming.
Dr. Phil Stevens, named Tonganoxie Phil by a Kansas City radio station years ago as a local answer to Punxsutawney Phil, the famous groundhog, said he didn't see his shadow on Wednesday, Feb. 2.
Because of this past week's snowstorm, his downtown office was closed. Tonganoxie Phil didn't burrow out of his home, and thus, didn't see his shadow. And that should mean good news for folks in Tonganoxie. No shadow means warmer weather.
"Early spring, I'm all for that," Stevens said. "I really think we're going to have a nice early spring."
Stevens first was asked to be Tonganoxie Phil in the late 1990s by a Kansas City radio station. It's no longer a radio tradition, but Stevens still offers up prognostications every Groundhog Day if asked.
As for his success rate when it comes to predicting the weather: "It's been spotty," Stevens said. "Once in a while, I get it right, but usually not.
"I think I'll hang on to my day job. I get in less trouble that way."
The longtime physician will stick to his practice, but Tonganoxie Phil sure hopes his prediction holds true.
"I've had enough for the rest of my life," Stevens said about the snow. "If I never saw a snowflake again, I'd just be delighted."