Vintage Park residents keep departed spouses close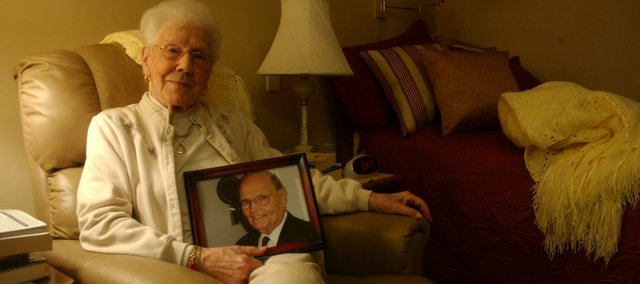 The idea of love lasting forever isn't just a Valentine's Day card sentiment, two residents of Vintage Park in Tongnanoxie say.
Mel Taylor and Helen Neese say they continue to hold dear the longtime spouses who died three years ago.
"I had grandchild ask me when I was in the car with my wedding ring, 'Granddad, are you still married?'" Taylor said. "I gave it some deep thought and said, 'Yeah, I guess I am.'
"When I get out of bed in the middle of the night, I very carefully step out of bed so I don't wake her. A lot of things I do, I think about her."
The 88-year-old Taylor was a student at Pittsburg State when he met his future wife at Sunday school. The attraction to the Baxter Springs woman was simple, Taylor said.
"My son said it best when he saw pictures of Baxter Springs. 'You picked out the prettiest one of the bunch,'" he told me. "She was a beautiful gal."
The attraction grew a deep love and partnership of 61 years.
"We had a great Christian life together," he said. "Before we were married, we agreed whatever she did well, she would do; whatever I did well, I would do; and whatever neither of us knew anything about, we'd learn together. It was a great partnership."
Valentine's Day was always a special day, Taylor said because their first of two sons, Don and Larry, was born on Feb. 14, 1947.
"I always said she said she gave me the greatest Valentine's gift I would ever get," Taylor said.
Taylor jokes that Dorothy was his second love. The first was one of those things he was good at — woodworking. It's a craft he practiced as a boy standing on a box to reach the tools, taught as an adult and still turns out wooden ink pens and small gift items at his Taylor Made shop in Urban Hess Industrial Park, turning out bowls and wooden ink pens.
On a table Taylor's apartment he built just before their marriage and on which they shared more than six decades of meals is a heart-shaped box.
"That was the first gift I ever gave her," Taylor said.
Many more would follow. In his years of teaching in the Shawnee Mission school district and managing a custom woodworking business on his "retirement," Taylor filled the home with original furniture.
"My wife enjoyed the fruits of my woodworking until the day she told me if I brought home any more furniture, she was going to scream," he said. "I slowed down after we moved from a four-bedroom to two-bedroom home."
Neese's love for her husband, Ben, began in circumstances very similar to that of the Millers. The couple met in St. Joseph, Mo., as members of a church youth group during the late years of the Great Depression.
"He was the Big Ben on totem pole at the church group," she said. "He had a car and a job, very few young men had a car.
"He offered to give me a ride home, and he kept taking me home until we got married. It was about six months. It didn't take long."
Ben was an office manager for Burroughs Machine from the days of adding machines through computers, while she was an editor for a livestock trade paper and later worked on radio in the St. Joseph stockyards.
Through the marriage, Ben spoiled her by decorating their home at Christmas time and boxes of chocolates on Valentine's Day, Neese said.
"My very precious daughter (Jan Schaefer of Tonganoxie) still tries to fulfill that tradition," she said.
Her husband was romantic but not demonstrative, Neese said.
"That suited me fine; I'm not very showy either," she said. "He was just kind and gentle man. In 59 years of marriage, I don't think I ever saw an act of temper.
"We didn't always agree on everything. But when we had an argument rather than disagree, we would go on a walk until we worked it out. We had some long walks."
The best of others continues to keep the memory of her husband alive, Neese said.
"Every act of kindness reminds me of him because he was such a gentle soul," she said. "He's still my valentine."