Home construction down, but not dire, for
LVCO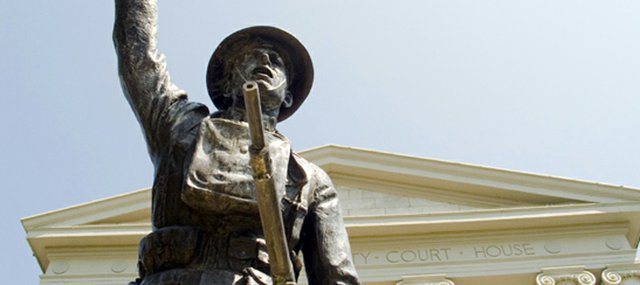 Though home construction continued to fall in Leavenworth County in 2010, county commissioners said Monday it was important to realize the county is still growing — just more slowly.
County Appraiser Bob Weber said in his quarterly report to the Leavenworth County Commission Monday that 112 new single-family homes were built in the county in 2010, a 38 percent decline from the 180 new homes built in 2009 and an 80 percent drop from the county's all-time high of 572 in 2005.
But commissioner John Flower said that the figures were hardly a cause for panic.
"Certainly it's not 'The sky is falling,' " Flower said.
Though the county was not adding as many homes as it once was, he said, it was still adding homes, and those additions would guard against too steep a decrease in total home evaluation, and property taxes, for the county.
"Even though we've seen a drop in housing, we still get 112," he said. "We still have 112 more than we had the previous year."
Commissioner Clyde Graeber noted that the county's total home sales had not fallen by as much — a 13 percent decline in 2010, from 788 to 685.
"Our home sales continue to be pretty doggone solid," Graeber said.
According to Weber's figures, new homes declined barely in Tonganoxie, from 15 in 2009 to 14 in 2010, and declined more steeply in Basehor, from 25 to 9.
Commissioner Bob Holland was absent from Monday's meeting.
During Thursday's meeting, the commissioners:
• Designated, 2-1, the Leavenworth Times as the official county newspaper. Flower voted against the designation.
Earlier, Flower made a motion to designate the Times as the official newspaper, but to also publish all county public notices in The Mirror, as well, to serve residents of the southern part of the county. That motion failed when Graeber and Holland voted against it.
The Mirror had been the official newspaper until Thursday's vote.
• Approved, 3-0, an exception to the county hiring freeze for a driver for the Council on Aging.
• Appointed, 3-0, Judy Murray to the Council on Aging Advisory Board.
• Approved, 3-0, two more exceptions to the hiring freeze to allow the Health Department to hire a director of nursing and a WIC coordinator.
• Authorized, 3-0, Emergency Medical Services to release a request for proposals for a new ambulance.
• Voted, 3-0, to enter into two periods of executive session, lasting a total of 13 minutes, to discuss non-elected personnel.