Stellar 'D' leads to Tonganoxie girls road win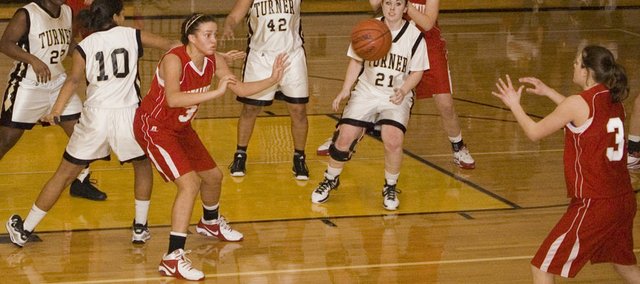 Kansas City, Kan. — The Tonganoxie High girls basketball team put a stop to nearly everything Turner's offense had to offer in the first half Thursday.
The Chieftains allowed just two points in the first 12:35 of play and went on to an easy, 49-19 victory.
Although the Golden Bears (1-14 overall, 0-9 Kaw Valley League) scored in the second minute of the game, Tonganoxie shut out the home team from that point until the 3:25 mark of the second quarter, which translated to a 19-0 run.
Eleven of those points came in the final six minutes of the first quarter — Madee Walker scored five, Jenny Whitledge had three, Haley Smith hit a runner in transition and Emma Stilgenbuaer made a free throw.
The next eight came in the second quarter, when Amanda Holroyd hit a baseline jumper, Smith spotted up for a long two, Stilgenbauer knocked down two free throws and Hannah Kemp and Whitledge both made one at the foul line.
Turner's most productive stretch of the game came in a seven-point third quarter, and Chieftains coach Randy Kraft said that was the result of his team letting up on the boards.
"It's sometimes difficult to play an entire game like that when you've got a pretty good lead," the coach said, "but the kids got to doing the things we do and that's gonna take care of itself."
Kraft called a timeout to drive that exact point home late in the third and Tonganoxie (6-9, 3-6) closed the quarter with a 5-0 run.
Kraft was pleased to see his team respond.
"That was probably one of the better parts of the game, because we had not played well in that third quarter," he said.
Smith came off the bench, hit a pair of 3-pointers and led the Chieftains with 12 points. Walker and Whitledge each scored eight.
Whitledge — who led the team with nine rebounds, finishing with one more board than Kemp — injured her left ankle with 2:31 to play in the third quarter. Her availability for Tonganoxie's 6 p.m. Friday game at Bishop Ward, in Kansas City, Kan., was not known.
Score by quarters
Tonganoxie 13 14 14 8 — 49
Turner 2 6 7 4 — 19
Tonganoxie scoring
Amanda Holroyd 1-7 0-3 2, Danielle Miller 0-4 0-0 0, Jenny Whitledge 3-6 2-4 8, Tavia Brown 0-6 5-6 5, Hannah Kemp 1-4 2-4 4, Emma Stilgenbauer 1-6 4-8 6, Tayler Miles 2-2 0-0 4, Haley Smith 4-7 2-3 12, Madee Walker 3-5 1-2 8.