Clutch shot defeats
THS

boys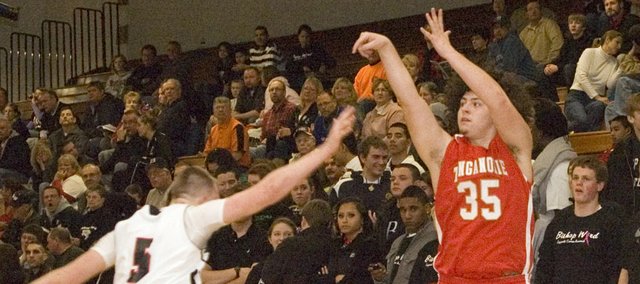 Kansas City, Kan. — Bishop Ward junior CJ Vallejo hit a clutch shot in the final seconds Friday that sent the Tonganoxie High boys basketball team home with a 53-51 loss.
Vallejo drove toward the baseline from the right wing and scored what proved to be the game-winner, a right-handed runner with 1.5 seconds left.
The Chieftains (7-9 overall, 2-8 Kaw Valley League) called a timeout to draw up a full-court play that might tie the game or win it with a 3-pointer, but after Dane Erickson caught a long heave from Ben Williams on the left wing, Erickson's ensuing quick pass intended for Jeremy Carlisle was stolen, sealing the victory for Ward (4-10, 4-5).
After relinquishing a five-point third-quarter lead, THS trailed by five entering the fourth quarter.
However, Tonganoxie mounted a comeback with senior point guard Carlisle's eight fourth-quarter points.
Carlisle, who led the Chieftains with 21 points, rebounded his own miss and put it in the basket in the first minute before going 6-for-8 at the foul line in the fourth quarter.
THS junior guard Colby Yates drove in for a score with 6:16 left that cut Ward's lead to two.
Erickson, who finished with 10 points, collected a Yates pass and scored in the paint to give Tonganoxie a 45-44 lead with 4:24 left. After the Cyclones regained the lead, Erickson hit two free throws at the 3:02 mark to put the road team ahead 47-46.
The Chieftains failed to score a field goal in the final 4:23 of the loss.
Senior guard Dylan Scates scored eight of his 10 points in the first half and led Tonganoxie with eight rebounds.
At 7:30 p.m. Tuesday, THS plays host to Lansing.
Score by quarters
THS 17 12 8 14 — 51
BW 11 14 17 11 — 53
Tonganoxie scoring
Dane Erickson 3-6 4-6 10, Dylan Scates 4-11 0-0 10, Colby Yates 2-6 3-3 7, Jeremy Carlisle 6-14 8-10 21, Dylan Jacobs 0-1 0-0 0, Austin Vickers 0-2 0-0 0, Brennen Williams 1-4 0-0 3.